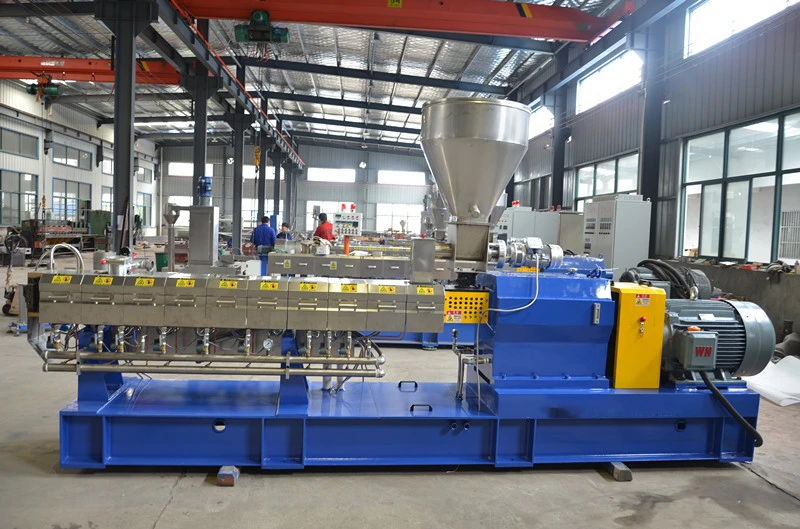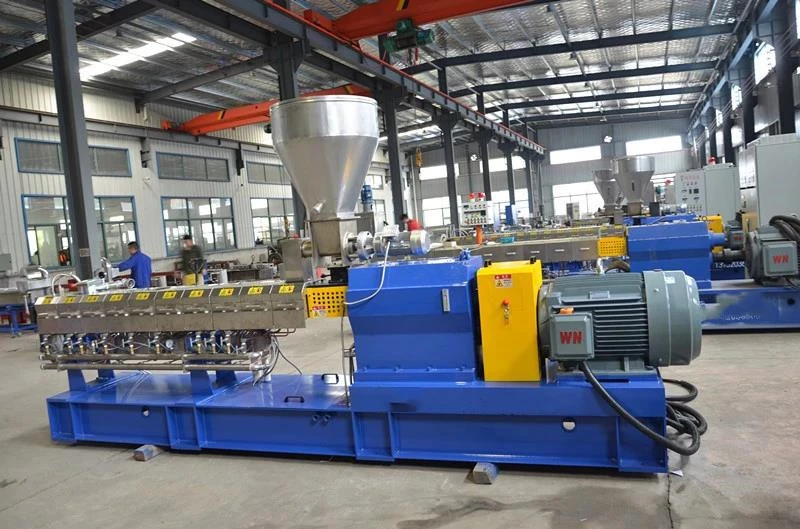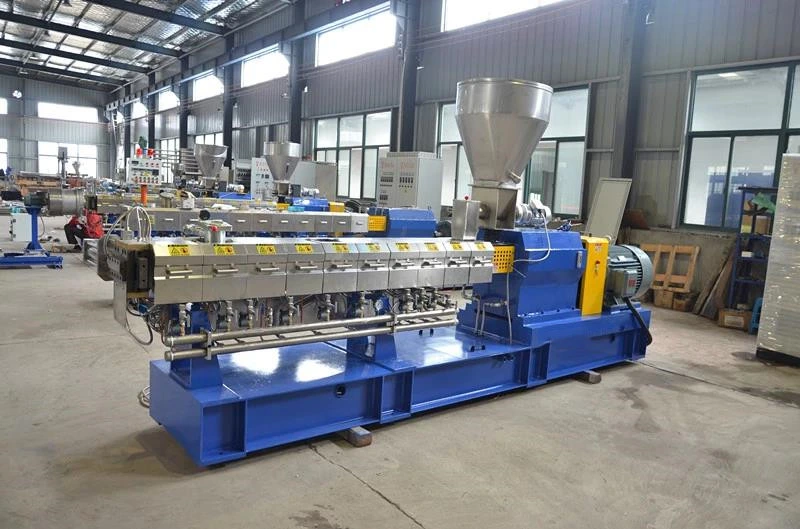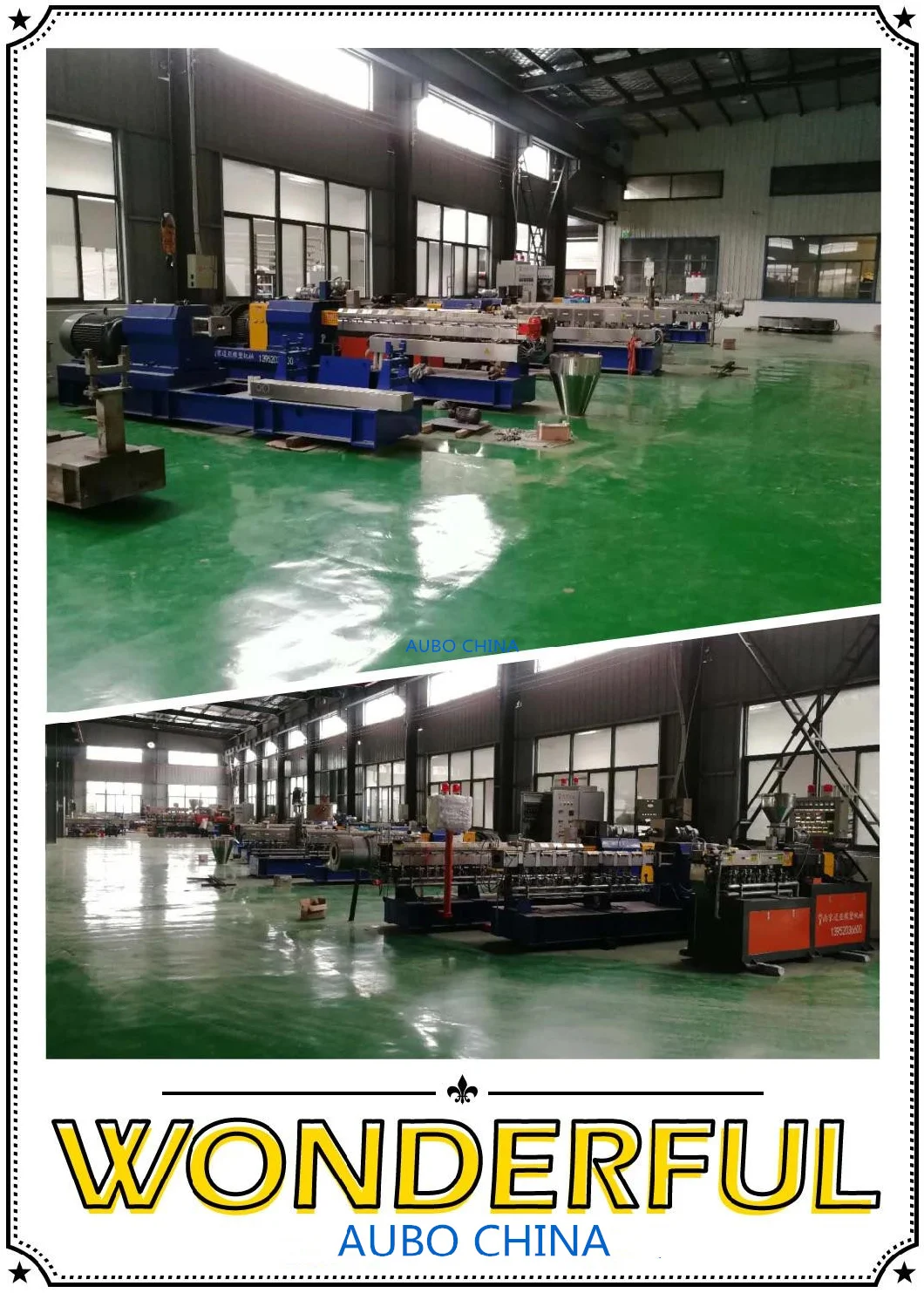 Scope of application:
Fill and modify, such as PE, PP, ABS, PC, EVA and so on, fill CaCO3, Talc, TiO2, etc.
Rubber plastic blending, plastic alloy, such as PC + ABS, PA + EPDM, PBT + PET, PP + NBR, etc.
Color Masterbatch, such as PE, PP, ABS, PC, EVA, PET, etc.
Flame retardant masterbatch, degradable plastics, antistatic masterbatch, antibacterial masterbatch, etc.
Glass fiber (carbon fiber) is enhanced, such as PA, PP, PC, ABS, PBT, POM + glass fiber.
Thermoplastic elastomers, such as TPR, TPE, TPV, TPU, etc.
Cable materials, PE, PP, EVA, PVC, XLPE;
Reactive extrusion, such as PA, PU, POM, PMMA, PC, etc.
After Degas treatment, such as CPP, CPE, SBS, EPDM, SEBS, fluorine rubber, butadiene rubber, etc.
Powder coatings, such as epoxy, polyester, mixed type, etc.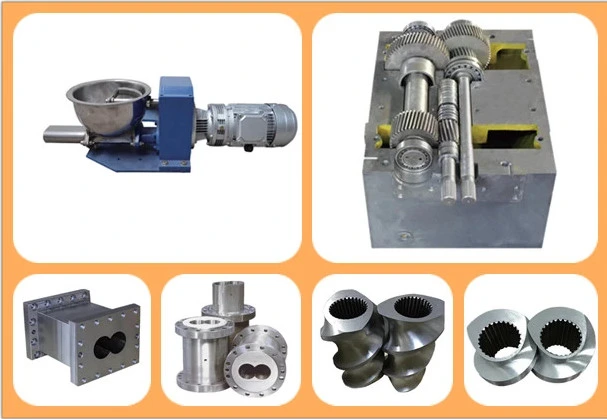 Packaging & Shipping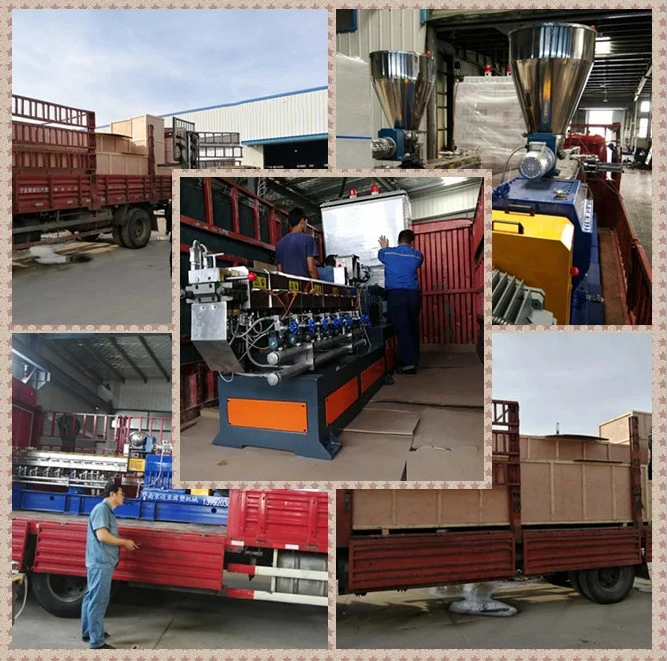 Company Information
Nanjing AUBO Electric Co., ltd . was founded in 2001. It is a manufacturer specializing in twin-screw extruder and its accessories, which integrates parts processing, machine assembly, debugging, sales and maintenance of diversified business.



Our company has been engaged in the plastic machinery industry for many years, the existing mature management model, experienced technical support and perfect after-sales service system, with excellent quality, reasonable price, good faith in service, and win the good praise of the customers in the industry.



With the development of the industry, the change of the market and the needs of the survival and development of the enterprises, the enterprises have been expanding, the existing workshop area
of 13,334 s
quare meters, including the comprehensive office building, machinery workshop, mechanical assembly workshop, electrical assembly workshop and many other working areas.

Our company is located in
No.15, Zhufeng Road, Zhuzhen Town Luhe, Nanjing, Jiangsu.



Applications
Process




Representative materials




Mixing nature-changing




PE, PP, PS+SBS; PA+EPDM; PP+NBR; EVR+silicon rubber, etc.




PE, PA, PC+CPE+ABS(alloy); ABS+TPU; PBT+PET; PP+PEPA, etc.




Filling nature-changing




PE, PP, EVA, etc + calcium carbonate, talcum powder, titanium powder; ABS, PC, PS, etc + anuminum hydroxide, magnesium hydroxide, antimony oxide.




PP, PA, ABS + ferrous powder, sulphuric powder, ceramic powder.



F

unctional Machine Pellets




PP, PA, ABS, PBT, etc + anti-burning auxiliary and other auxiliary; conbustion-supporting machine pellets.




PE, PP, PS, etc + starch; de-composing machine pellets.




PE + fog-preventing dipper, stabilizing; dual-prevention machine pellets.




PE, EVA, ABS, etc + carbon black; black machine pellets.




Colored machine pellets




PE, PP, ABS, AS, PA, EVA, + paint and auxiliary.




Intensifying glass fibres and carbon fibres




PP, PBT, ABS, AS, PA, PC, POM, PPS, PET, etc + long fibres, short fibres, carbon fibres, crystal fibres, etc.




Various cables




HDPE, LDPE, LLDPE, MDPE, EVA, PVC, PP, etc insulating cables.




Special materials




EVA heat-melting glue, polyurethane, fluorion rubber, fluorine plastics, PP cigarette filtering material, TPR sole material.




Reaction extruding




polyamide condensation, polyamide melting polymerization, polyurethane addition, polycarbonate condensation.




Exhausting and devolatilization




Chlorinated polypropylene(CPP), super absorbent resin, Chlorinated sulfonated polyethylene(CSPE).




Powder paint




polyester, epoxy, propane, polyurethane, acrylic acid.