High Quality Screw Barrel for Co-rotating Twin Screw Extruder


About product
Different types of screw elements can be used in a twin screw extruder. Generally there are four major types of screw elements, namely conveying elements, kneading elements, backward-pumping elements and mixing elements. For each type there are many different subtypes.

Conveying elements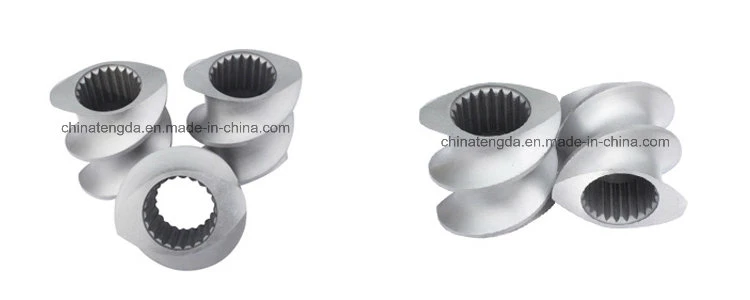 The geometry of the conveying elements enables a good transport of the product through the extruder. Each conveying element is characterized by its number of flights, its length in millimeters, and its pitch. The pitch is defined as the axial length in millimeters, required for a complete thread. Conveying elements with a large pitch have a greater conveying effect than those with a small pitch. These elements are used to forward the material e.g. at feed openings, in order to avoid that pressure increases excessively at the openings.
Kneading elements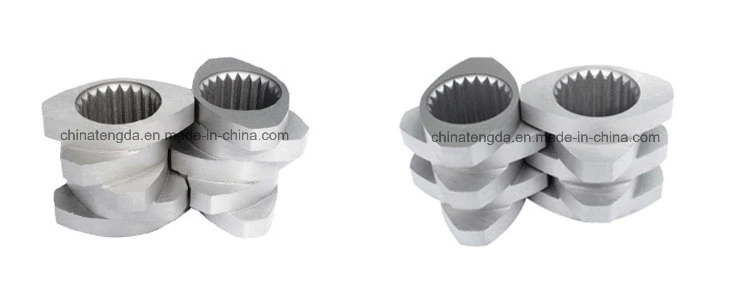 Kneading elements are mostly used for dispersive mixing, but they are also used for distributive mixing processes. They consist of kneading discs with a certain thickness. Like the conveying elements there are several parameters by which the kneading elements are characterized. These parameters include the number of flights, the staggering angle between sequential kneading discs (in degrees), direction (clockwise or counter-clockwise) and the element length (in millimeters) .

Backward-pumping elements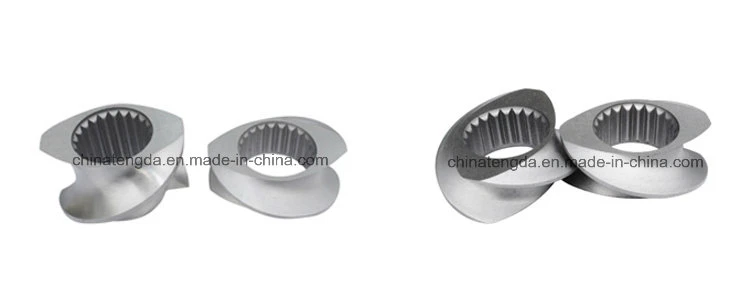 Backward-pumping elements give a good distributive mixing and as the name implies they transport the product upstream instead of downstream. They are used for performing a more longitudinal homogenization.

Other screw elements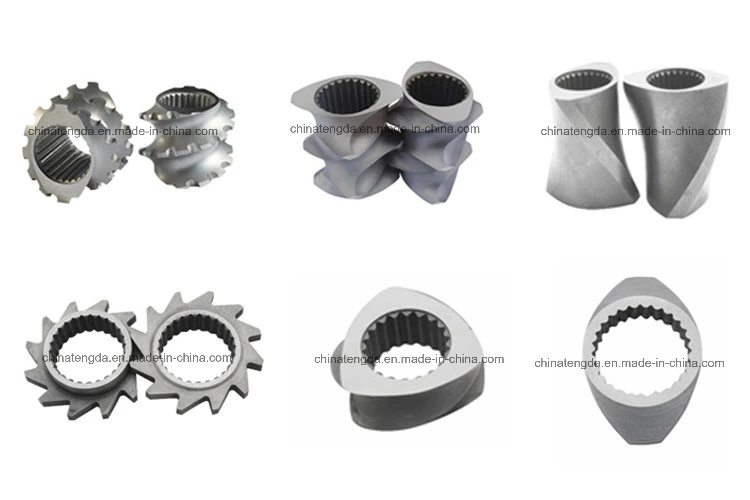 Product Show

Our company
Tenda, headquartered in Nanjing, China, is a global manufacturing and trading company in the field of high performance plastics and rubber processing equipment, extrusion solutions, masterbatch and compounding, etc. Its unit Nanjing Tengda Extrusion Company is a professional manufacturer of twin screw extruder, single screw extruder, two stage extruder and its related auxiliaries. We tailor solutions from raw materials, materials processing equipment, to injection for different customers. Each Tenda
'
s solution is designed, manufactured and commissioned by experienced teams of professionals engineers and after sales staffs.