Midea CAC Introduction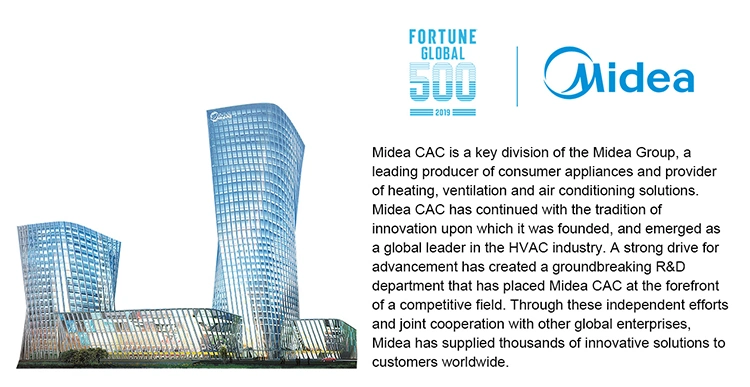 Midea Product Portfolio

Aqua Mini Chiller Series Air Cooled Water Chiller
DC inverter Mini chillers' cooling capacity range is from 5kw to 18kw and it can freely combine with fan coil units and floor heating.
These units are designed for residential applications or light commercial applications that require cold of hot water.
They are silfent and compact units, easy to install and maintain. All units' energy efficiency at part load is A+ rated.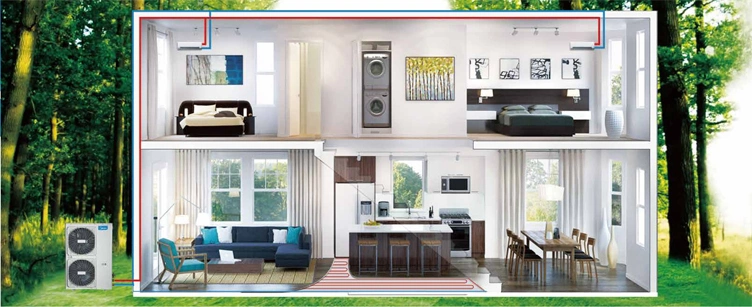 | | |
| --- | --- |
| | 220V-415V/1PH OR 3PH/50HZ |
| | |
| | |
| | |
| | |
| | |
· Nine models with wide range capacity. · Multiple power supply options. · Freely combine with fan coil units and floor coils. Home owners may choose the best types according to their design taste (for interior) or functional needs.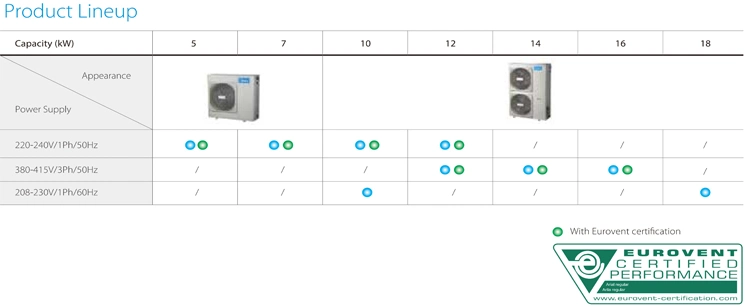 A+rated energy efficiency at part load(For 50Hz series)
The DC inverter chiller integrates the latest technological innovations and ensures precise temperature regulation and highly efficient energy usage, making a significant contribution to the limiting the impact on the environment.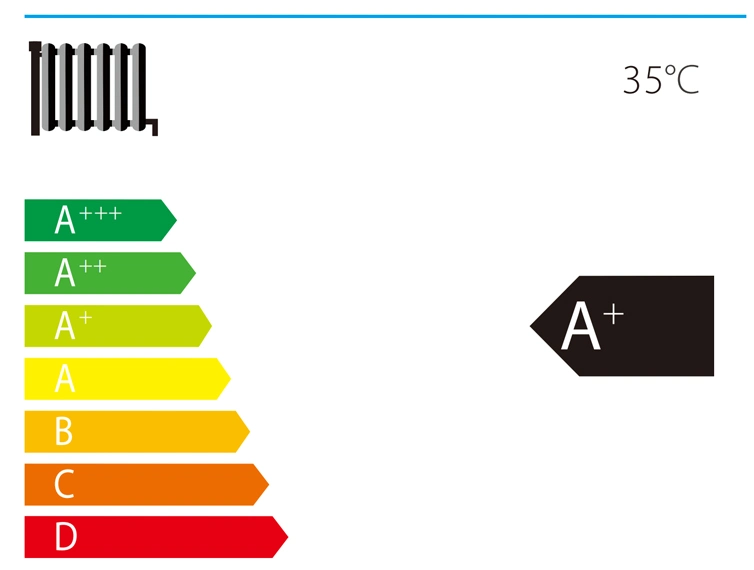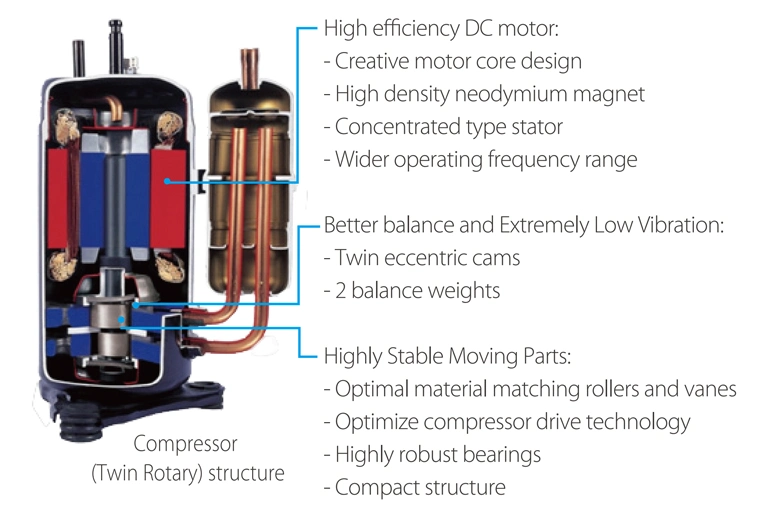 Twin rotary DC inverter compressor is used.The output of the outdoor unit can be adjusted precisely according to the energy


High performance heat exchanger
The new designed window fins enlarge the heat-exchanging area, decrease the air resistance, save more power and enhance heat exchange performance. Hydrophilic film fins and inner-threaded copper pipes optimize heat exchange efficiency. The specially coated blue fins enhance durability and protect against corrosion from air, water and other corrosive agents, assures a longer coil service life.


DCinverter technology, optimally designed fan shape and air discharge grille ensure low sound values.
· Compact structure design and leak-tight refrigerant circuit save you much instalation labor. · The chilers are equipped with a hydronic module integrated into the unit chassis, limiting the installation to straight-forward operations like connection of the power supply, the water supply and the air distribution FCU5. · The units are equipped with axial fans so they can be installed directly outdoors.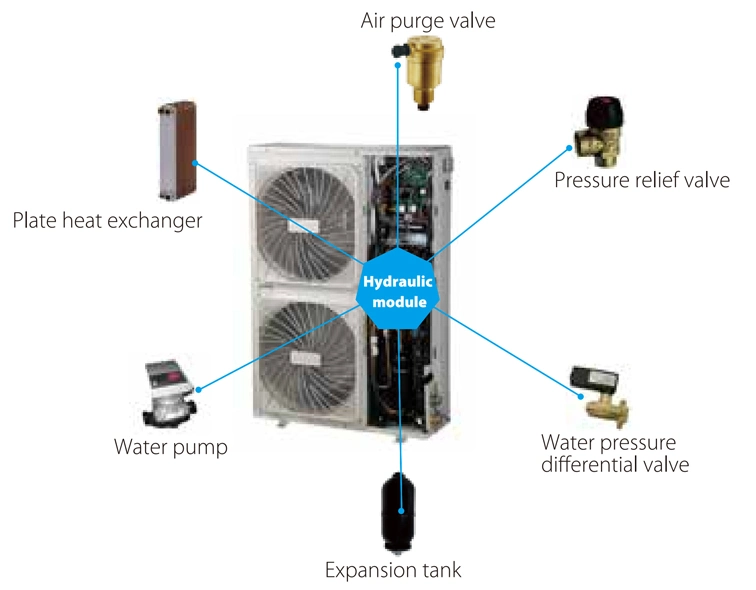 Easy control
---Controller built-in in unit panel used to perform all related operations as the user interface as well as fast diagnosis of possible incidents and their history.
·ON/OFF & Mode selectior ·Temperature adjust ·Timer setting ·Fast diagnosis
·Optional wired controller for easy operation.
·Touch key operation ·LCD displays operation parameters ·Multiple timers·Real-time clock
Projects Show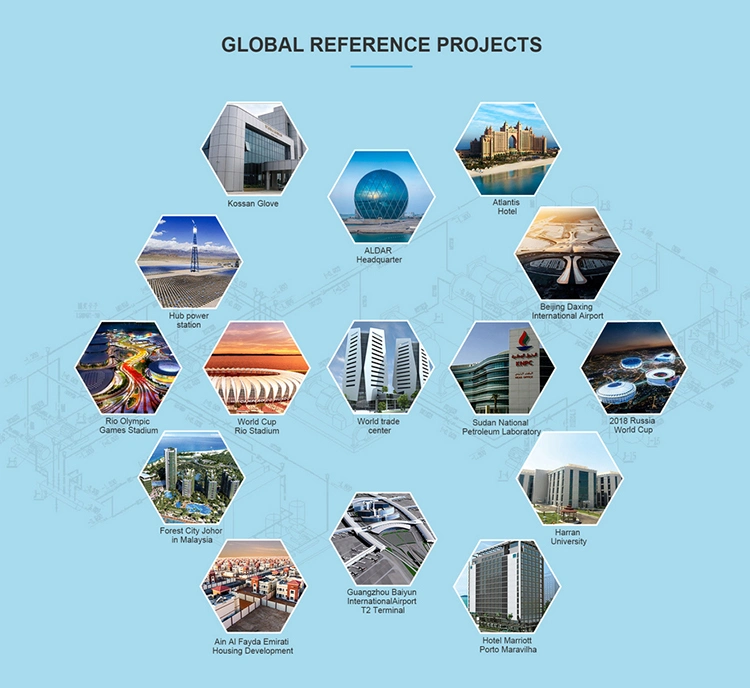 About Beijing Midea Overseas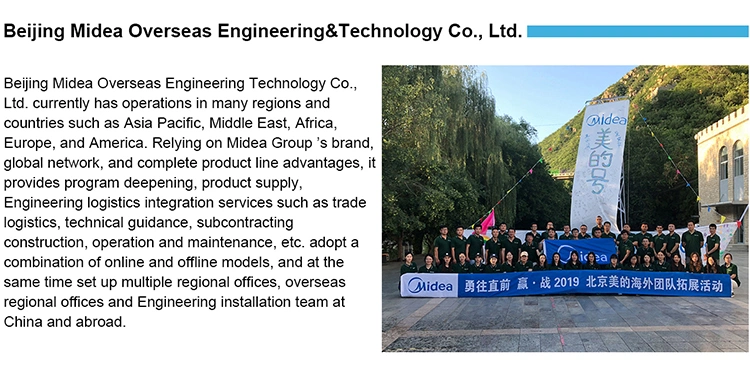 Our Company Advantages