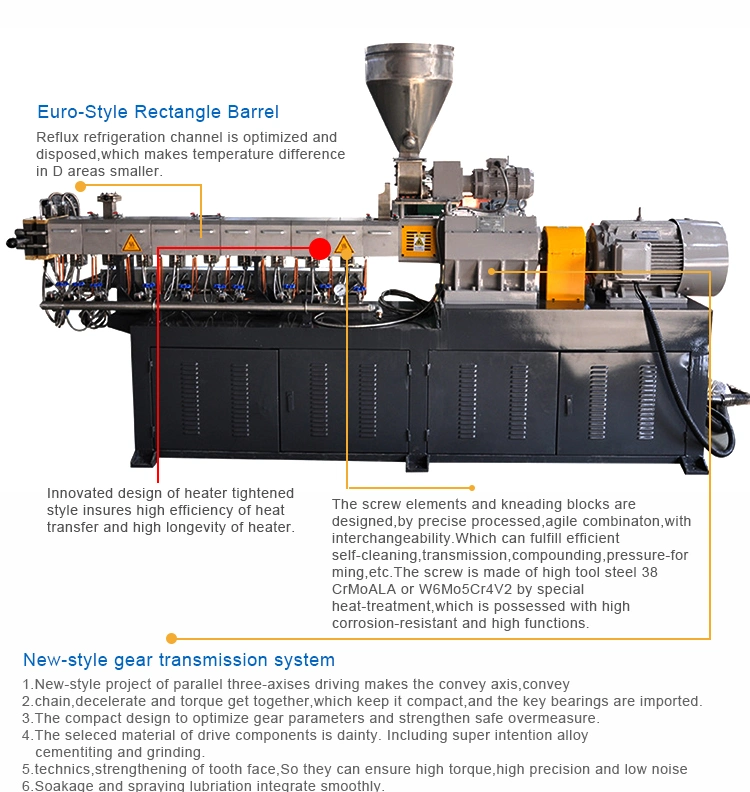 Mode

Diameter
(mm)

L/D

speed
(r/min)
Motor power
(kw)
Torque
(N.m)

Capacity




(kg/h)

TSE-20

22

32-44

600

5.5

43

0.5-10

TSE-30B

31

32-48

600

15

119

5-40

TSH-35B

35.6

32-52

600-800

15-22

119

30-70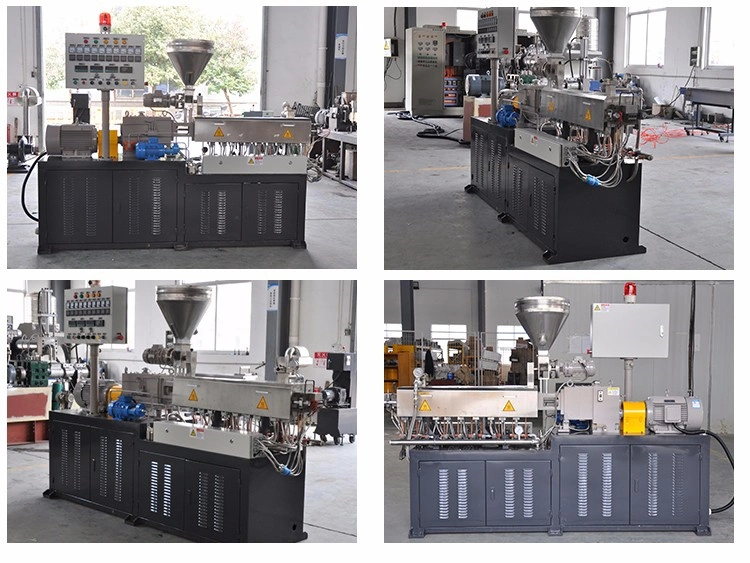 1.Strand Extruders for Filling/Compounding and Reinforcing
Fibre reiforcement : glass fibre, carbon fibre reinforced PP, PA, PBT, ABS, PC, POM, PPS, PET, etc.
Fibre reiforcement : glass fibre, carbon fibre reinforced PP, PA, PBT, ABS, PC, POM, PPS, PET, etc.
Incorporation of Fillers: Caco3, Talc, TiO2, carbon black,filled PE, PP, or EVA, etc.
Cable Compounds: cable sheath, cable insulation compounds of LDPE, HDPE, LLDPE, MDPE; radiation-crosslinkable
compounds, optical fibre protection compounds, heat-shrinkable polymer compounds.
Special Compounds: PPR pipe compounds, PE compounds for crosslinked pipes, tobacco filter compounds, etc.
High Concentration Color Masterbatches: PE, ABS, PS, EVA, PP,etc. with high concentration of pigments and other
processing aids.
Masterbatches with Flame-retardants: PE, ABS, PS, EVA, PET, PP, etc. with flame retardants and other additives.
The twin screw strand extruder also fit for PET bottles/ flakes recycling.


2. Water Ring Extruders for Filiing/Compounding/Modificating
PE, EVA etc. Filled with CACO3,talc,TIO2,carbon black etc.
Cable sheath, cable insulation compoundes of LDPE,HDPE,LLDPE,or MDPE;
Radiation-crosslinkable, heat-shrinkable cable compounds;
PPR pipe compounds, PE compounds for crosslinked pipes;
TPR, TPU thermoplastic elastomers; EVA and hot-melt adhesives;
Color concentrations of PE,ABS, PS,EVA,etc;
Flame retardant master batches of ABS,PS,EVA,etc;
Master batches with PE,PP,PS,etc carriers for degradation applications.



3.Air-cooling Extruders
Enforcing modification:PE,EVA etc.+CaCo3,Talc, TiO2,Carbon black.
Degradable master batch: PE,PS etc.+starch,additive etc.
Anti-flame master batch: PE, EVA etc.+Sb2O3, Mg(OH)2,AI2(OH)3 etc.



4. Underwater Extruders
1.The main material is PE+CaCO3
2.The metering feeders are equipped with single screw, twin screw, hollow screw, forced feeding ,side-feeding, etc
3.Different requirementsof feeding, such as power, pellet, lump and luqid material.


5.Single Screw / Two Stage Single Screw Recycling Extruder Machine
The single screw extruder fit for clean PP/PE film or PP/PE/ABS flakes recycling, not for compounding masterbatch
make.the final end product could be used to make plastic carrying bags or new film.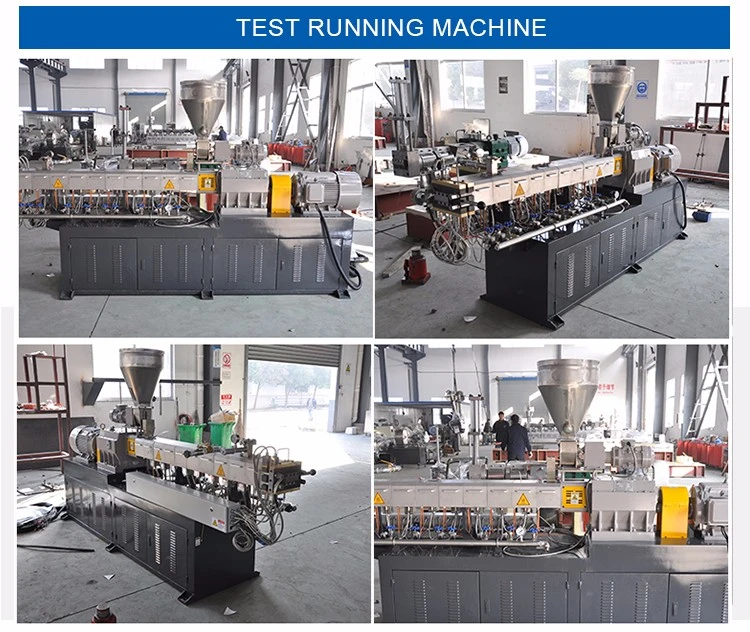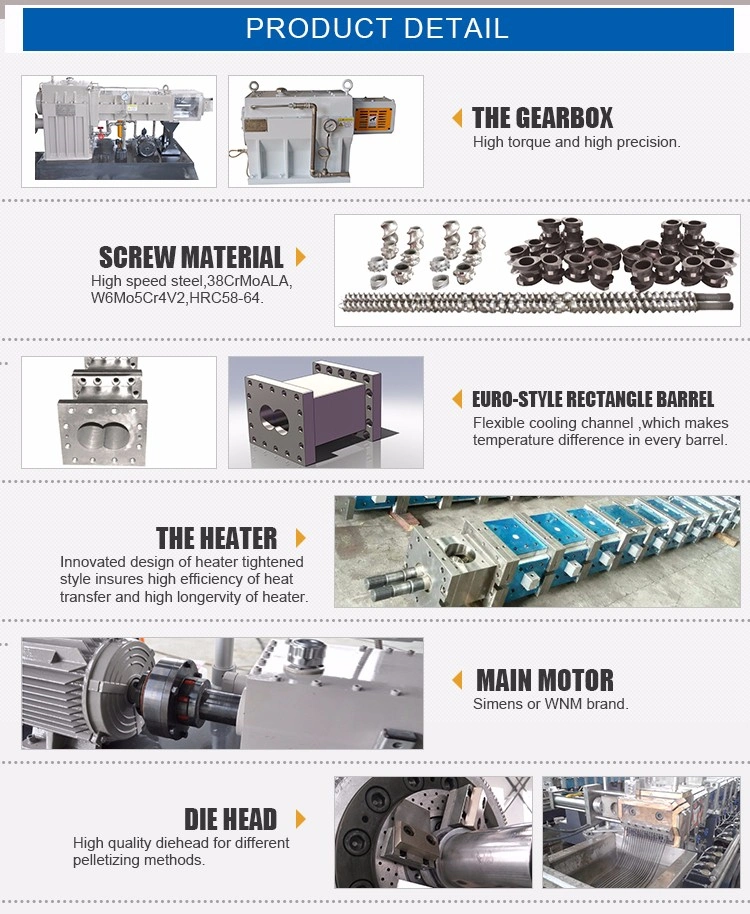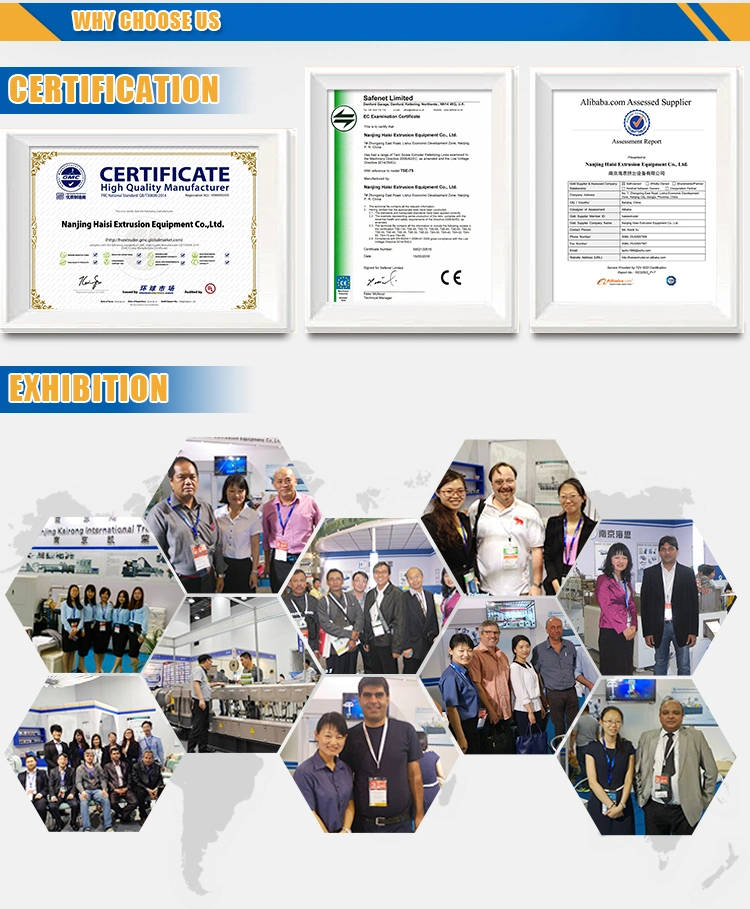 FAQ
1. Q:Are you factory or trading company?
A: We are manufacturer.
2. Q: What makes you different from other suppliers?
A: 1) firstly,our factory is very professional in twin screw extruder for many years, and our machine's
quality is best in our field and our price is also competitive from other suppliers.
2) second,our service is very excellent.and our engerneers is avaliable to service the machine overseas
and if you have any questions you can contact us at any time,we will reply you in 24hours.
3. Q:What is the payment?
A: 1) T/T payment; 30% T/T in advance ,balance before shippment. 2) L/C or contact us for other ways.