Products Informations
1. Technical Data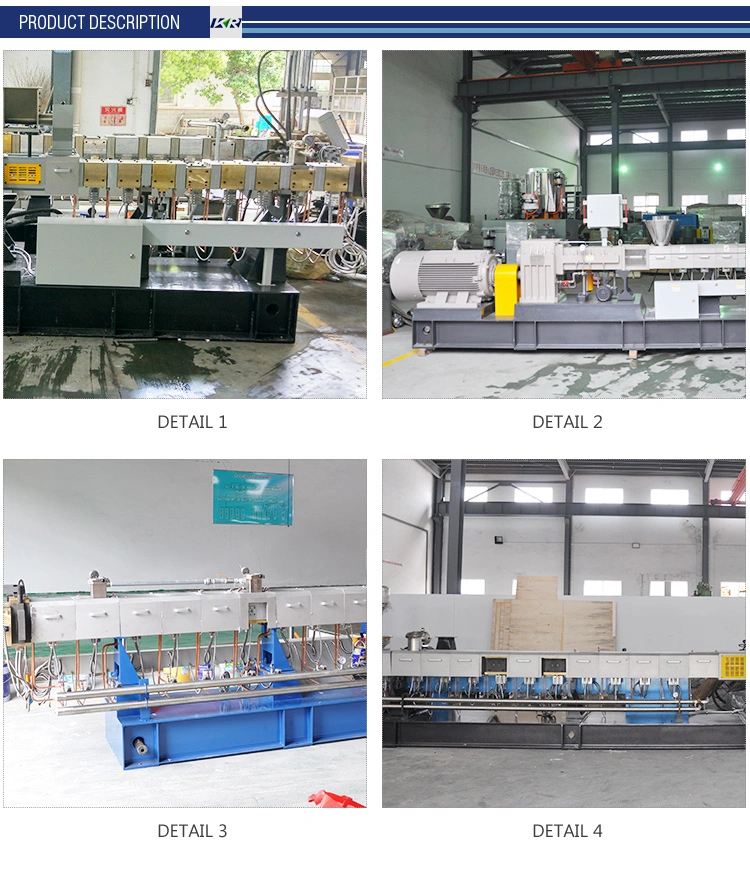 Mode
Diameter
L/D
Screw Speed
(r/min)
Motor Power
P(kw)
Torque
T(N.m)
Capacity
Q(kg/h)
Weight(kg)
SHJ-20
22
32-44
600
5.5
43
0.5-10
1000
TSE-30A
31
32-48
500
11
105
5-30
1500
TSE-30B
31
600
15
119
5-40
SHJ-35A
35.6
32-48
600
15
119
20-60
2000
TSE-40A
41
32-64
400
22
263
65-110
3000
TSE-40B
41
32-52
600
30
239
90-150
TSE-50A/B
50.5
32-52
500
45-55
430
135-270
TSE-65A
62.4
32-52
400
75
895
180-250
4000
500
75
716
180-270
TSE-65B
62.4
32-64
600
90
716
200-300
TSE-65C
62.4
32-64
600
132
1050
220-350
4000
TSE-75A
71
32-56
400
90
1074
250-350
4000
50O
110
1050
300-420
4000
TSE-75B
71
32-64
600
132
1050
350-550
4000
TSE-75C
62.4
32-64
600
160
1273
800-1200
4000
TSE-75D
71
32-64
600
200-250
1990
500-1000
4000
TSE-95A
93
32-64
500
250
2387
600-1000
4000
TSE-95B
93
32-64
600
315
2506
800-1200
4000
TSE-135A
93
32-64
500
750
7162
1500-2250
4000
2. Products Introduction
Features
1Tailored to meet a wide variety of requirements, able to granulate & recycle all kinds of plastics material of different texture and shapes.
2. Well constructed with unique machanical partsto ensure precision.
3. Strong structure, easy to operate, low electricity consumption & durable
4. Full safety device installed, to ensure safe operation.
5. Double Wall hopper designed , low noise.
Advantages
A. Produced as customer required
B.Motor can be controlled by Frequent Inverter control to meet customer productivity demand.
C.Available for various plastic raw material, like PP, PA, PBT , ABS, AS, PC, POM, PPS, PET, etc.
3. Applications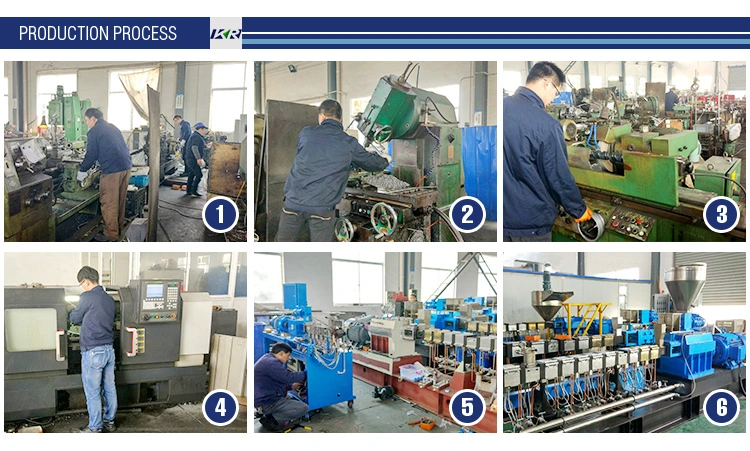 Strand Extruder for Filling , Compounding and Reinforcing
| | |
| --- | --- |
| Fibre Reinforcement | Glass Fiber , Carbon Fiber reinforced PP/PC/ABS |
| Polymer Blending | PC+ABS; PA+ABS; CPE+ABS; PP+EPDM; PA+EPDM; PP+SBS |
| Incorporation of Fillers | CaCO3, Talc, TiO2, Cabon Black filled PE, PP, or EVA etc. |
| Special Compounds | PE Compounds for crosslinked pipes |
| Masterbatch with Flame-Retardants | PE/ABS/EVA/PP+Flame retaedants / other additives |
| Masterbatch for Degradable Polymer | PP/PE+High concentration of starch / other processing aids. |
Air-Cooling Extruders for Compounding, Modificating
| | |
| --- | --- |
| Enforcing Modification | PE/EVA+CaCO3/Talc/Tio2/Carbon black |
| Degradable Masterbatch | PE+Starch/ Additive |
| Anti-Flame masterbatch | PE/EVA+ Sb2O3/Mg(OH)2/Al2(OH)3 |
Water Ring Extruders for Filling, Compounding, Modificating
PE/EVA+CaCO3/Talc/TiO2/Cabon Black
EVA and Hot-melt Adhensives
Color Concentrations of PE/ABS/EVA
Flame Retardant Masterbatches of ABS/EVA
Masterbatches with PE/PP Carriers for Degradation Applications.
According to buyer's demands, we will offer a Economical and Practical plan for every buyer !
Company Information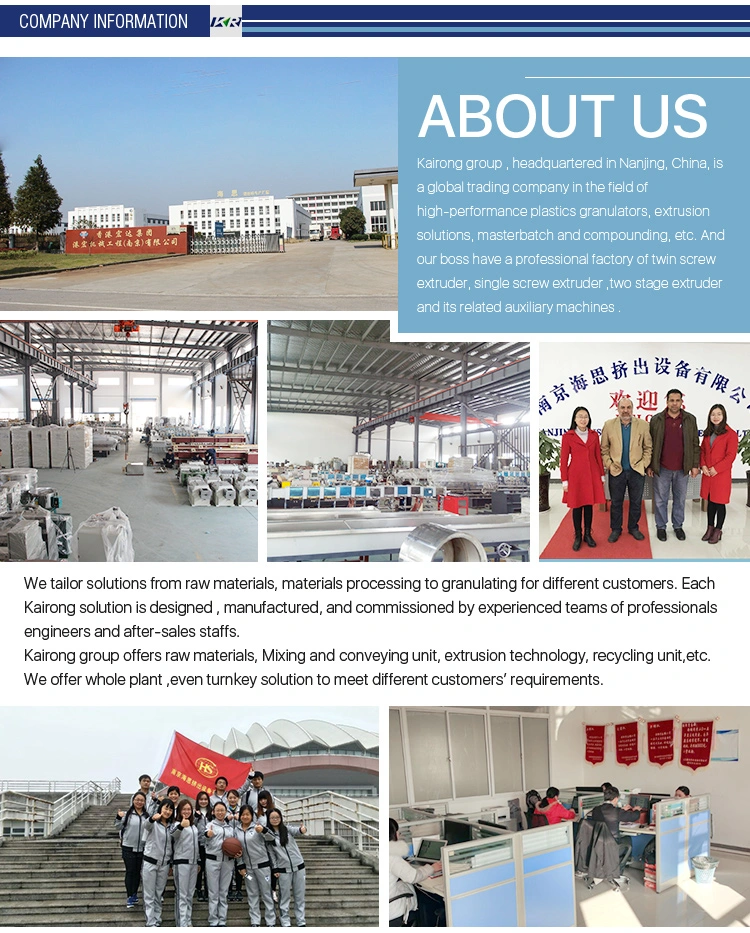 Introduction
Nanjing Kairong Machinery Technology co., LTD., is by a group for many years in the extruder industry research and development design, production technology, strong team of sales and service of high-tech companies. Now mainly engaged in single, twin-screw mixing extruder and related technology of manufacturing complete sets of equipment, until the turn-key project. According to the material system and process, the realization of mixing equipment structure design of priority, it is a combination of mechanical and electrical, process system, it is our years of experience accumulation and concentration of comprehensive technical performance.
Advantages
1. Professional R&D Team 2. Manufacture Price 3. Innovative Equipment
4.Eight Years Experience 5. World Market
[ Kairong Group is a professional manufacturer of granulating extruders for coloring/dyeing, filling masterbatch, as well as plastic modification and compounding, plastic recycling. Innovative machines are built as per the concept of durability, high efficiency and economical power consumption. And we also have substantial experience in R&D, technique and after sales service. And for some materials, we supply turn-key project. ]
FAQ
1. Q: How can we go to your factory ?

R: Our factory is located in Nanjing jiangning, Jiangsu Province, China,
1) You can fly to Nanjing Airport directly. We will pick you up on Nanjing Lukou International airport; about 20 mintues to our company
2) You can fly to Shanghai Pudong International Airport then come to Nanjing by High-speed
railway, then we will pick you up in the railway station.about 8 mintues to our company

2. Q: Why chose us?

R: We are professional manufacturer of plastic granules extruder machine. And we promise
1) Quick reply. Once we received the inquiry from Alibaba, we will reply you within 24hours.
2) Quick manufacturing time. To guarantee the quality, the machine will be finished within 60days.
3) Before delivery, the machine will be tested to ensure every part is ok.
4) Wooden case package to ensure no damage during shipping.

3. Q: What is the payment?

R: 1) T/T payment; 2) LC

4. Q: What do I need to provide to receive a quote for a custom extrusion?

R: We can use a drawing (printed, CAD, PDF, etc.) including specified tolerances and quantities or a written description including a list of dimensions, color, material, tolerances, and quantities. Very often we work from a prototype of the desired product. Of course, a verbal description works very well. If in doubt, it is best to contact us and let us help you determine what is needed to accurately quote your product.

5. Q: How to prolong the service life of the extruder?

R: We advice you doing things as follows
1) Raw materials should be cleaned up to avoid metal or other foreign objects inside,
which prevents the damage to the machine.
2) Keep the equipment clean around.
3) Always check the quality of extruded materials, attention to replacement of wearing parts.
4) If long-term shut down or replacement of extruded materials, materials extruded cavity should
be cleaned to prevent caking, mildew or cross contamination of materials
Company Service System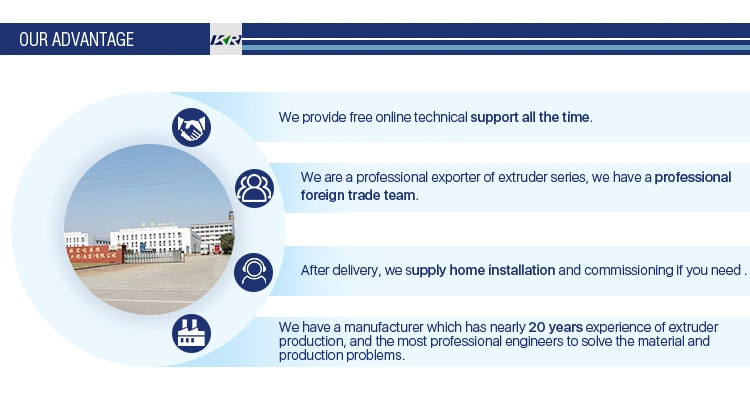 Before Sale
1. Introduce Products in Detail
2. Recommend Suitable Solution
3. Offer Test
During Manufacturing
1. Provide Layout and Engineering Conditions
2. Offer Screw Plan and Related Documents
3. Inform the Project Processing Status
4. Insure the Product Designed in Accordance with Technical Document
After Sale
1. Provide Installation, Commissioning and Training
2. Offer Spare Parts
3. Provide Necessary Technical Support and Update Information
Package : Wooden Case
Please Contact Us
Liz Hou
Nanjing Kairong Machinery Technology Co.,Ltd.
Tel: +86 187 5184 2016