Technical Data of Lab HDPE PE twin screw plastic pelletizer machine
Mode
Screw Diameter
D(mm)
Screw Length(mm)
L/D
Screw Rater
N(r/min)
Motor Power
P(kw)
Torque
T(N.m)
Torque
Level
T/N3
Capacity
Q(kg/h)
Weight(kg)
Dimension
(m)
SHJ-20
22
150
32-44
600
5.5
43
7.5
0.5-10
1000
1.7*0.5*1.8
TSE-30A
31


32-48
500
11
105
5.9
5-30
1500
2.4*0.63*2
TSE-30B


600
15
119
6.7
5-40
SHJ-35A
35.6


32-48
600
15
119
4.4
20-60




TSE-40A
41
160
32-64
400
22
263
6.4
65-110
3000
2.9*0.65*2
TSE-40B
41
160
32-52
600
30
239
5.8
90-150
SHJ-50A
50.5


32-52
500
45
430
5.4
135-225




TSE-52B
51.5
210
32-64
600
55
438
5.5
225-250
3000
3.8*2*0.69
TSE-52C
51.5
210
32-64
600
75
597
7.5
200-300
SHJ-65A
62.4
240
32-52
400
75
895
6.3
180-250
4000
4.2*0.67*2.2
500
75
716
5.1
180-250
TSE-65B
62.4
240
32-64
600
90
716
5.1
200-300
SHJ-75A
71
290
32-56
400
90
1074
5.0
225-350
4000
4.8*0.78*2.3
500
110
1050
4.8
250-450
TSE-75B
71
290
32-64
600
132
1050
4.8
350-550
TSE-75D
71
290
32-64
60O
220-250
1990
9.2
500-1000
TSE-95A
93
360
32-64
500
250
2387
5.0
600-1000
4000
6.2*0.87*2.4
TSE-95B
93
360
32-64
600
315
2506
5.3
800-1200
TSE-135A
133


32-64
500
750
7162
5.38
1500-2250
4000


Application
special for waste plastic recycling, and convert to PP PE PET PS ABS PA PVC etc granules.
Two stage machine has better performance in recycling pvc.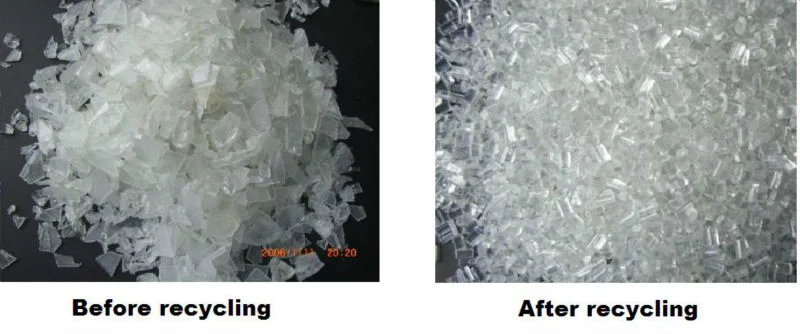 Functions:
Plastics filling and modification, general and fibre color masterbatch, blending modification (rubber and plastic blending, plastic alloy), functional masterbatch, glass fibre or carbon fibre reinforcement, various cable material, reactive extrusion, handling after venting and dewatering, special material, powder coating
Characteristics:
1, Modular principle design for screw configuration and barrel setup makes combination and cleaning convenient , also easy to adapt to customers' requirements .
2, Different kinds of pelletizing modes can meet specific material properties: water-cooling strand pelletizing, air-cooling hot-cut pelletizing, water-ring pelletizing, under water pelletizing, etc.
3, Screw elements and kneading blocks are made of high tool steel , with high corrosion-resistant and high wear-resistant.
4, Barrels are made of high quality nitrided steel , corrosion proof and antifriction.
5, Vacuum system fulfills devolatilization to ensure the quality of polymer processing.
Parts
1.The Gearbox
New-style project of parallel three-axises driving makes the convey axis,convey chain,decelerate and the torque assignment get together,which keeo it compact,and the key bearings are imported.
The select material of drive components is dainty. Including super intension alloy cementiteing steel,cementiting and quenching ,gear grinding technics ,strengthening of tooth face.So they can ensure high torque,high precision and low noise.
Soakage and coerce lubrication integrate smoothly.When the hydraulic circuit is over pressed, it alarms
2.Mixing and Feeding system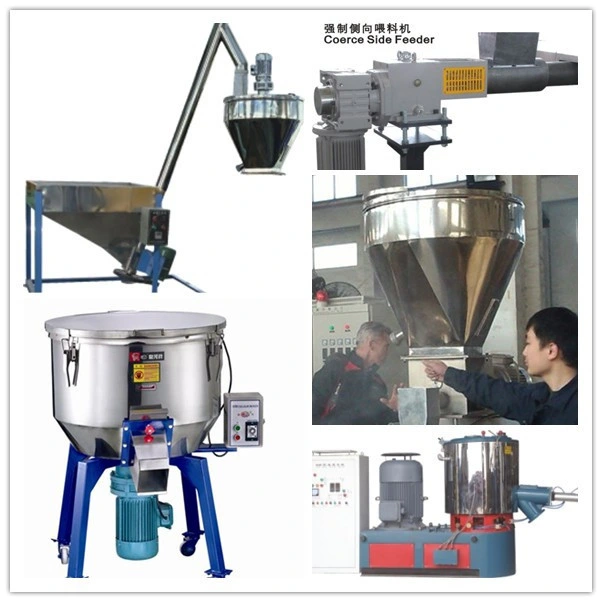 3.pelletizer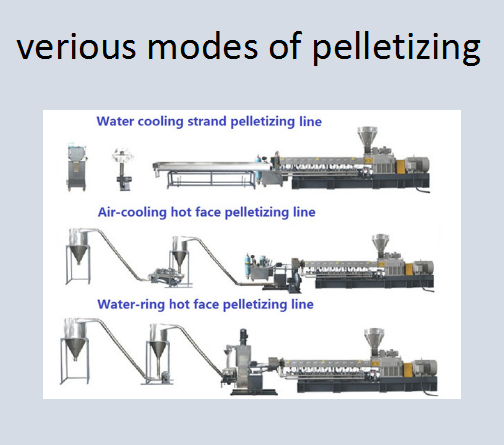 Our company
Kairong group , headquartered in Nanjing, China, is a global manufacturing and trading company in the field of highperformance plastics and rubber processing equipment , extrusion solutions, masterbatch and compounding, etc. Its unit Nanjing Haisi Extrusion Company is a prefessional manufacturer of twin screw extruder, single screw extruder ,two stage extruder and its related auxiaries. We tailor solutions from raw materials, materials processing equipment, to injection for different customers. Each Kairong solution is designed , manufactured, and commissioned by experienced teams of professionals engineers and aftersales staffs.
our service
when customers buy our machines, first we promise good quality, lead customers visit our factory to check machines, when machines are ready and tested, we deliver according to customers' requirements, after machines arrive desination, if any problem, we try our best to solve asp, and we will arrange our engineer to go abroad to teach and test if customer need.