Small Scale Floating Aquatic Food Making Machine Fish Food Extruder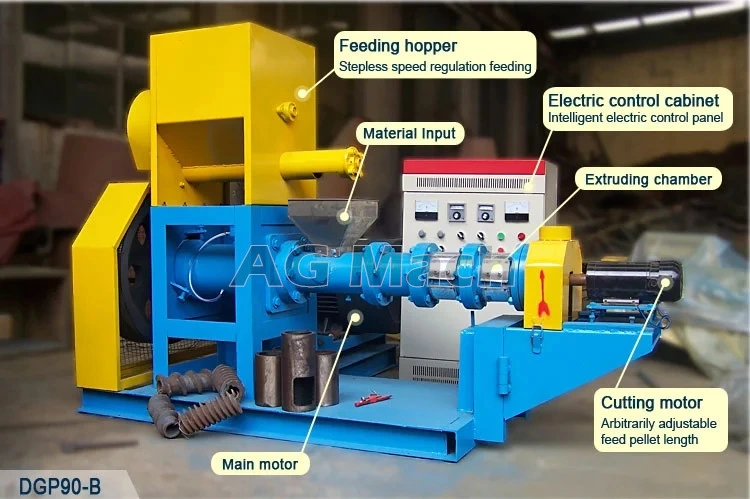 Induction of Fish Feed Machine:
1. The Floating Fish Feed Pellet Machine can make many kinds of fodder for different kinds of animal fodder.
2. It can make poultry and pet fodder, as well as aquaculture-fodder and fishery feed, which is also called floating -feed.
3. It is applied to the pretreatment of the animal fodder; so as to reduce loss of nutrition, advance the protein content, so the fodder will be digested easier by animals.
4. The poultry-fodder can feed chicken, rabbit, sheep, pig, and horse cattle's and so on.
5. The pet-fodder can feed dogs, cats; goldfish etc The Fishery-feed can feed the fish, shrimps, crab, eel, catfish, and batrachians etc.
Specification of fish food making machine:
Model

Output

Main Power




(kw)

Feeding Power




(kw)

Cutting Power




(kw)

Dimension




(mm)

Weight




(kg)

DGP 40-C

30~40 kg/h

5.5

0.4

0.4

1400*1030*730

240

DGP 50-C

60~80 kg/h

11

0.4

0.4

1470*1100*1250

320

DGP 60-C

100~150 kg/h

15

0.4

0.4

1470*1120*1250

350

DGP 70-B

180~200 kg/h

18.5

0.4

0.4

1650*1400*1300

580

DGP 80-B

200~300 kg/h

22

0.6

0.6

1800*1450*1300

695

DGP 90-B

300~400 kg/h

37

0.6

0.8

2100*1450*1350

950

DGP 120-B

500~600 kg/h

55

1.1

1.5

2400*1950*1600

1700

DGP 135-B

700~800 kg/h

75

1.1

2.2

2550*2050*1650

1900

DGP 160-B

1-1.2 t/h

90

1.5

3.0

3100*2650*1800

3200

DGP 200-B

1.8-2 t/h

132

2.2

3.0-4.0

3100*2850*1900

3800


Features of floating fish feed machine:
1.This floatingfish food machine is mainly used for producing floating feed pellets of all kinds of animals including fish, pets, live stock and poultry, etc.The floating pet fish fodder machine adopts combined modular spindle, which suits the extrusion of different raw materials, easy operation and maintenance.
2.This floating pet fish fodder machine adopts international advanced technology, the pellets are very even, and we can adjust the cutter to get the different diameter and the length; Screw sleeve of this floating pet fish fodder machine adopts enchase alloy steel strip structure, which guarantees long service life.
3.Main components of this floating pet fish fodder machine use special alloy materials made of heattreated, strong abrasive resistance and long service life.
4.This floating pet fish fodder machine is widely used for extrusion of beans, corns, pig feed and other livestock feed pellets. It is also used for rice husk fresh keeping and cotton seeds detoxication. It is and ideal tool fro feed processing industry.
Detailed of fish feed extruder machine:

Raw Material of Fish Feed Extruder Machine:

1). Raw materials can be: Corn, Wheat, Soybean, Grain, Bone powder, etc.

Common Raw Materia for Making Nutritional Fish Feed:

Rice Dust: contain about 10-14% of protein and aso contain vitamin B1, B2, B6 and small quantity of enzyme.
Mustard Cake: Mix maximum 40% of cake in the fish feed. But don't use dry cake more than 20%. Mustard cake contains 30-32% protein. It aso contains a high rate of fat.
Wheat Chaff: contain fiber, contro many types of fish diseases.
Maize: contain protein, carbohydrate, fat, vitamin A and E.
Cotton Seeds: contain about 54% protein. It is a better ingredients for suppementary fish feed.
Fish Powder: easiy digestible to fish. Fishmeal contain about 55-60% protein.
Bone Powder: very necessary for buiding fish-bone. The ratio of calcium and magnesium in bone dust is 2 : 1.
Innards: very suitabe and ideal feed for catfish. It contains 52% protein.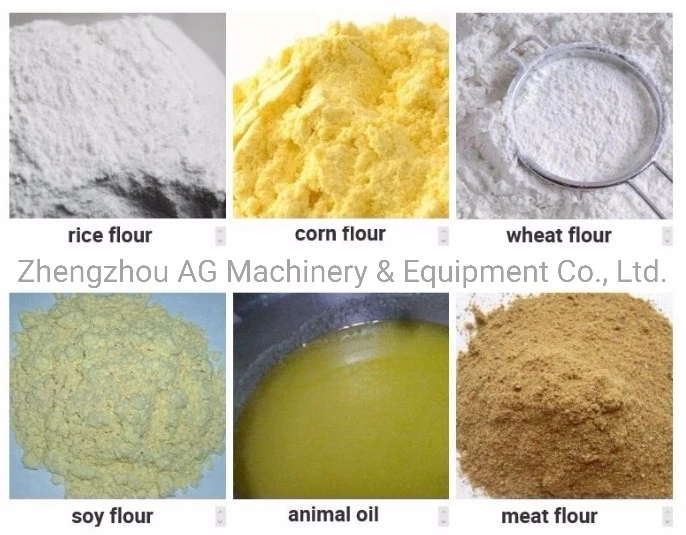 2). Raw materials need grind into 60-80Mesh.
3). Raw materials moisture content: 20-30%.
4). Diameter of Final Pellets: 0.9mm-12mm.
5). Length of the pellets can be adjustable by control the cutting knife
Finished Product: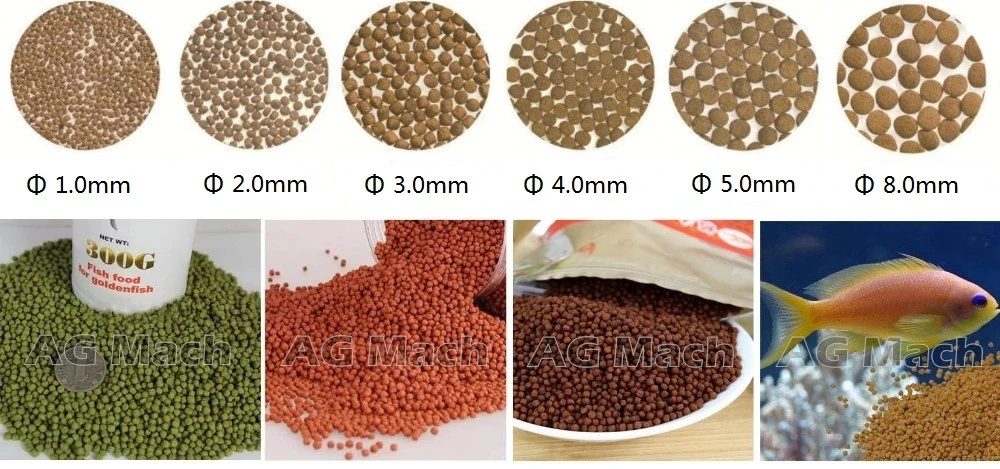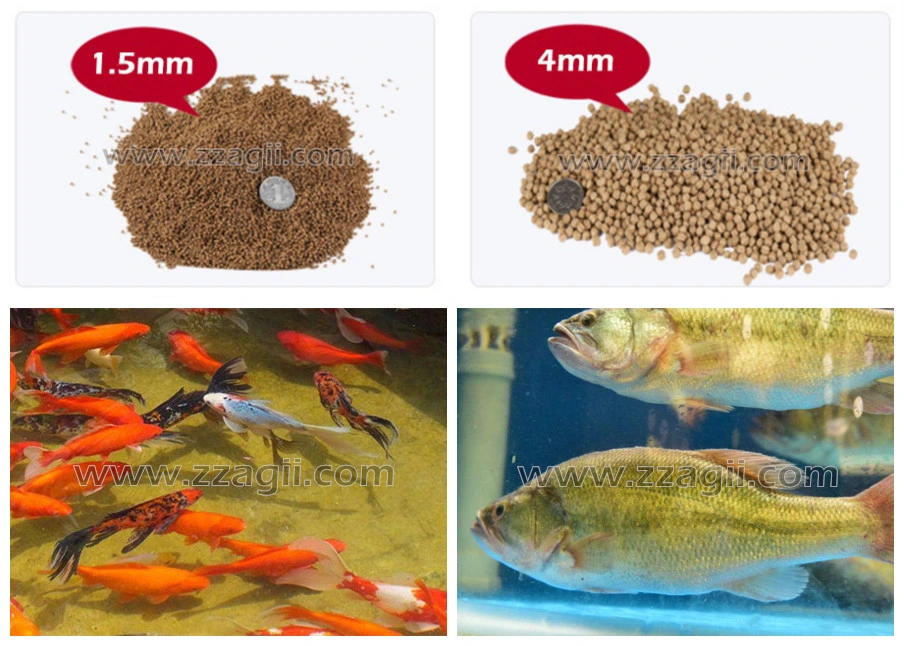 Package of Screw Fish Feed Machine: