TONGDA HSll-12L Factory Price Plastic Extrusion Bottle Extrusion Blow Molding Machine
HSll-12L
This is our best series machine.This is hydraulic servo system.The clamping unit is elbow style and the clamping force is more uniform.It is high speed and energy-saving. This machine is suitable for jerry can.It can be also equipped with several die-heads and then to make the small bottles.
The main parts of this machine are designed and manufactured by ourself.We do the independent R&D and inspection.If you have other special requirements,we can provide customized services for you.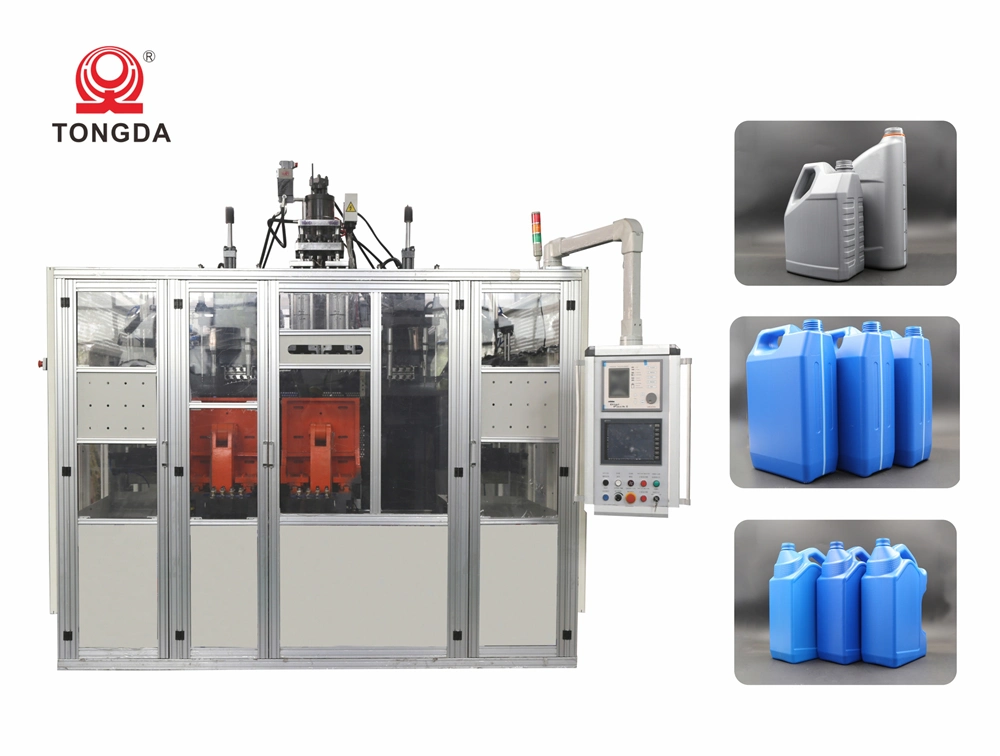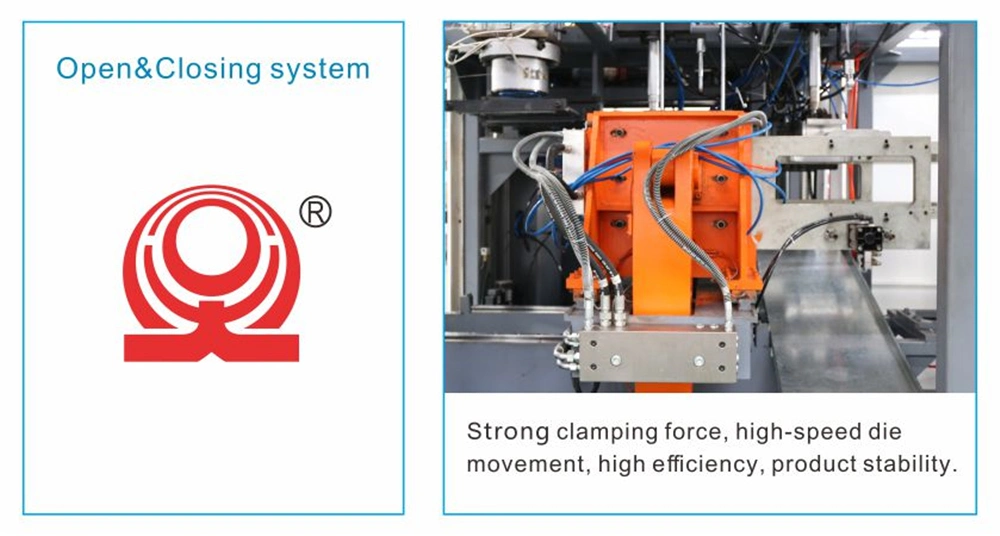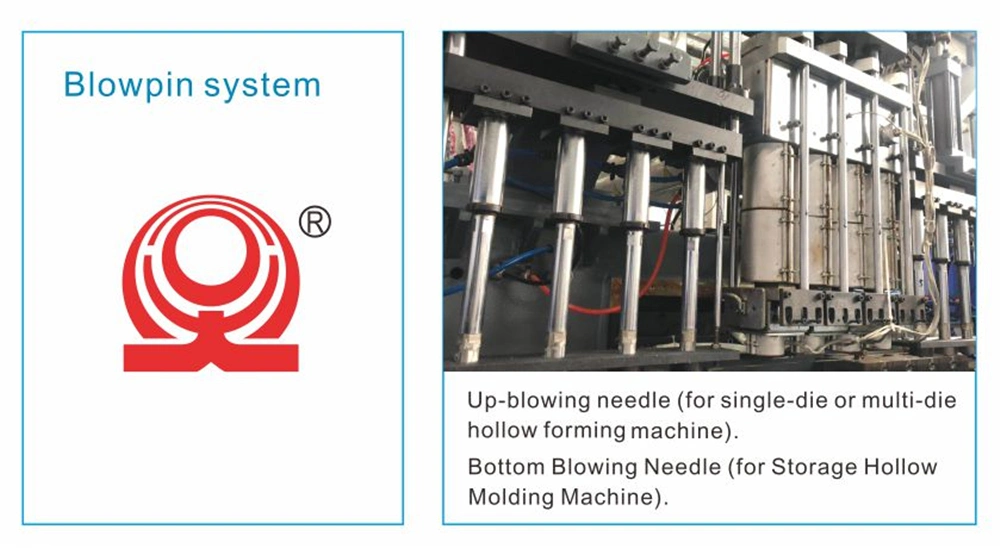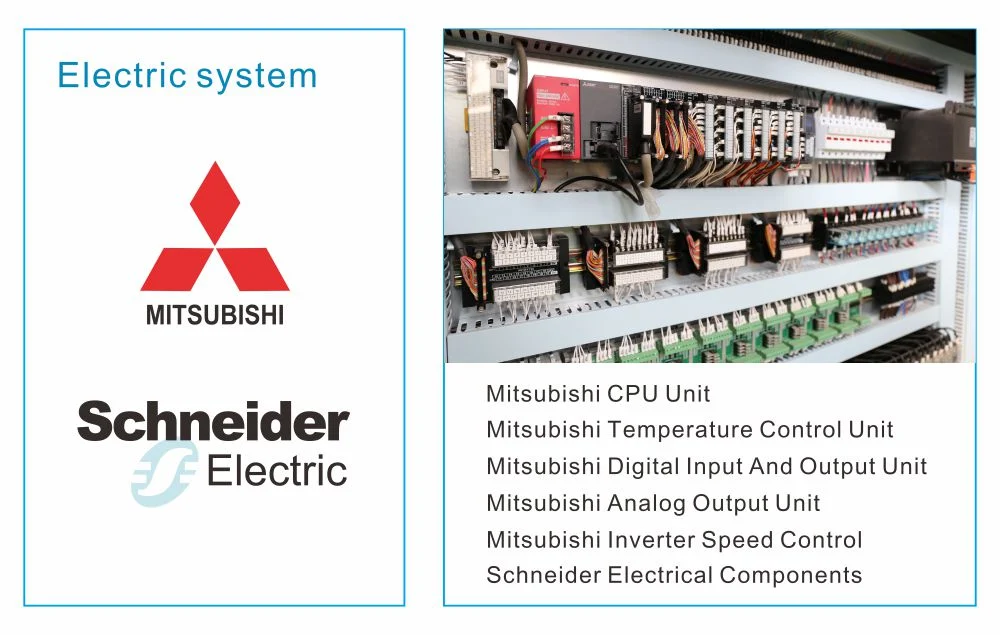 Model
Units
HSll-12L



The main parts of this machine are designed and manufactured by ourself.We do the independent R&D and inspection.If you have other special requirements,we can provide customized services for you.




The above specifications and design are subject to change without prior notice.

Specification
Station
Single/Double
Double
Max.product volume
L
12
Dry cycle
pc/h
700*2
Output of HDPE
kg/h
180
Weight of machine
kg
15000
Size of machine(L*W*H)
m
4.9*3.1*3.2
Die head
Max.die diameter(single head)
mm
200
Die head heating power(single head)
kw
9.1
Die head heating zone(single head)
-
3
Central distance of(double head)
mm
240,260
Max.die diameter(double head)
mm
120
Die head heating power(double head)
kw
15
Die head heating zone(double head)
-
7
Clamping Unit
Platen distance
mm
270~620
Mold moving stroke
mm
600
Clamping force
kn
158
Extruder Unit
Screw diametre
mm
100
Screw length/diametre ratio
-
25
Screw heating power
kw
21
No.of heating zone(screw)
-
4
Power Unit
Oil pump motor power
kw
17+4
Screw motor power
kw
45
Total power
kw
96.1
Remarks
Air consumption
m³/min
0.8
Blow pressure
Map
0.6
Cooling water pressure
Map
0.3
Water consumption
L/min
60
Max size of mold(W*H)
mm
590*500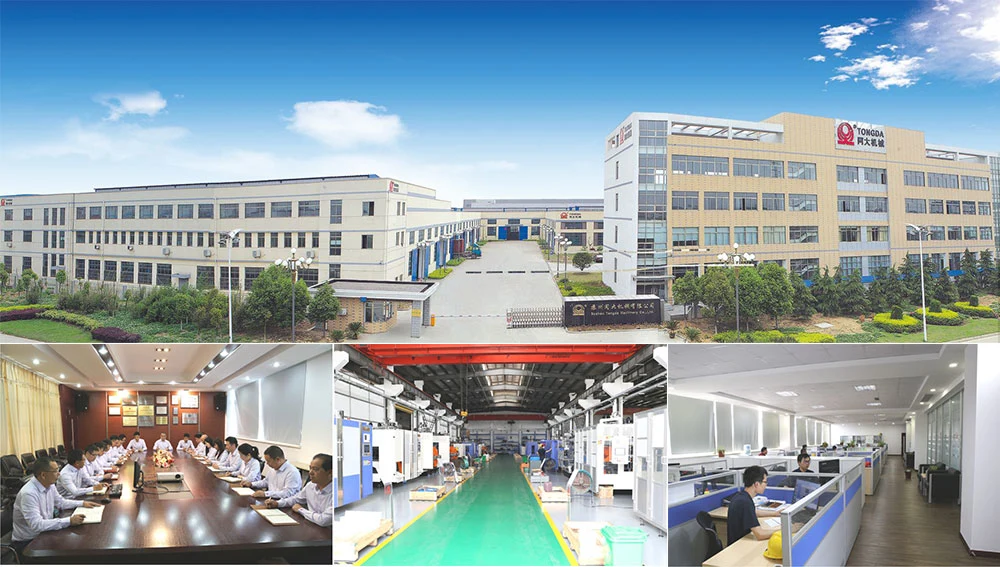 Suzhou Tongda Machinery Co., Ltd. is located in Zhangjiagang City, Fenghuang town Korea Industrial Park. 2 hours away from Shanghai City by car. In the recent 20 years, Suzhou Tongda Machinery Co., Ltd. has been focusing on the research, development and product application of extrusion blow molding machines. The factory covers an area of more than 80 acres of land and has more than 270 employees. The company has established Engineering Technology Research and Development Center, and Jiangsu Province excellent Graduate work Jiangsu Enterprise Research and Development Center, Jiangsu Province Extrusion blow Molding Technology Technology Center has more than 50 R & D personnel, including 1 national science and technology talent, Station. Jiangsu Province post-doctoral innovation practice base and other R & D platforms, at present, the that means constantly exploring the expansion of new areas. Warmly welcome new and old customers to visit, to guide, 4 senior masters,15 bachelors, hosting the development of two national standards and participating in the formulation of a national standard. "Working Together to Grow Together" is the spirit of TONGDA company, to cooperate with us and we are always at your service to provide you with strong support.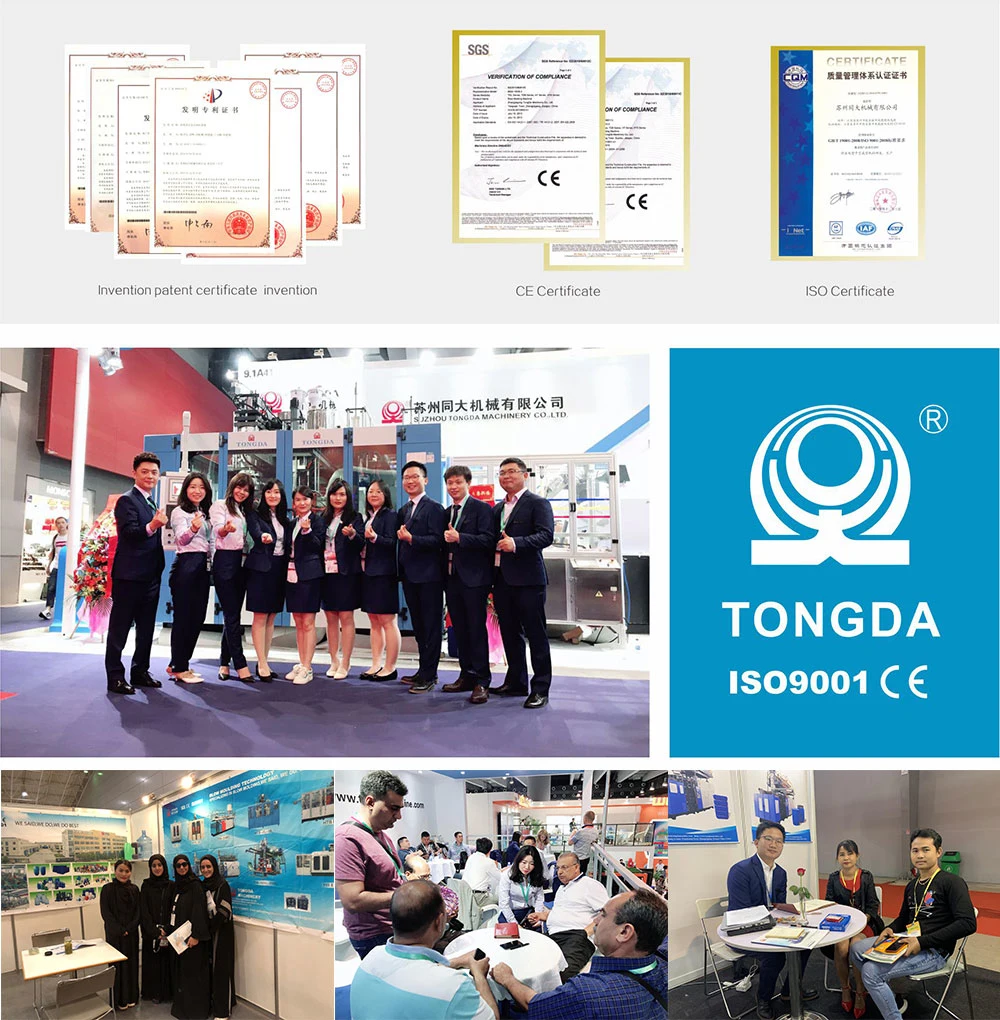 Under normal conditions,the blow molding machine to abroad will be packaged in wooden case. ln addition,we will also pack the machine according to the requirements of specific customers.Subject to the measurement of main blower,we will choose corresponding wooden case, TONGDA is a professional mould machinery company we will try our best to satisfy the kinds of demand of customers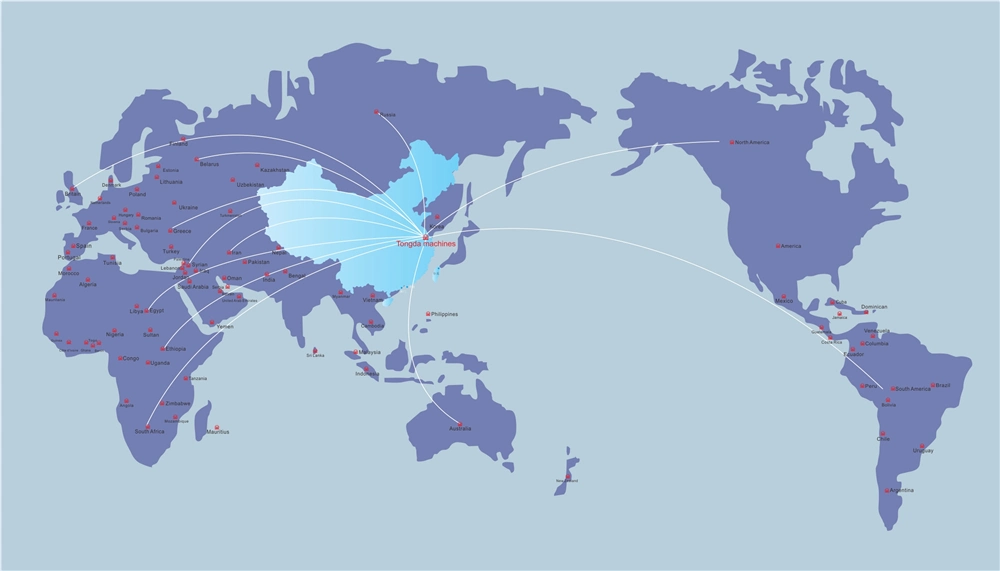 Service Marketing Network
1.Over four thousand Tongda machines have been serving customers all over the world.
2.The company has service outlets in Russia, Egypt, Jordan, Thailand, Chile, Indonesia and Algeria.
3.our company has exported over 4000 units machine to more than 89 countries and regions, such as USA, UK, Australia, Greece,Poland.Russia,Belarus,South America, South Africa, Indonesia, Egypt, Syria, Ethiopia.We are not only providing our customers with high quality products, but also provide high quality service Which will be rapidly and timely sent to every customer.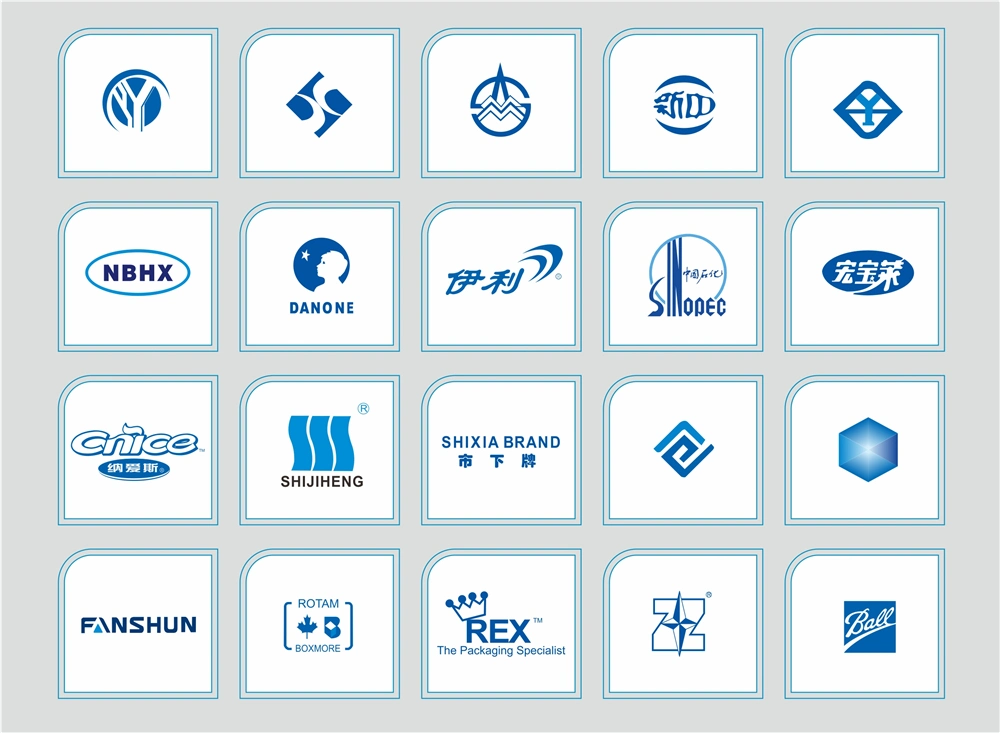 Our Machinery has been keeping good cooperative relationship with customers since our establishing.
The

satisfaction of our customers are the pursuit of every member of Tongda,The only way we service in the

competitive market is to help our customers to full fill their requirement.
TONGDA sales consultant
1. We can provide comprehensive and professional Suggestions on equipment selection.
2. Energy consumption calculation and investment income analysis can be provided.
3. Provide tailor-made CAD drawings of workshop layout and product optimization Suggestions.
4. Extrusion plastic bottle blow molding machine has remote maintenance function
Advantages of TONGDA tech teams
1. 600 sets of customized requirements per year enable us to have rich experience across multiple industries.
2. Customize equipment models according to customer product characteristics.
3. Project responsibility system, closed-loop team cooperation between the design team and the process team, adjustment of the team, and joint creation of equipment that users are satisfied with.
4. Engineers can study abroad or participate in technical function training of the industry to master the latest information and technical trends of the industry.
5. Undertake a number of large projects, and has a group of senior technical personnel composed of the construction team, can build cable bridge, installation of a complete set of equipment.
Advantages of TONGDA after-sales team
1. Lifetime free service for the machine.
2. Quick response all day long.
3. Set up domestic service team and international service team.
4. Technicians also master the debugging and maintenance of auxiliary equipment.
5. A free 2-day training course will be provided to customers every year.
6. Special processing equipment to produce after-sales accessories to ensure rapid response to user needs.
Q: how big is your company?
A: our company has 270 employees and A building area of 53,330 square meters. We own land and factories.The company has a
registered capital of us $2 million and a long-term business license since 1998.
Q: how long is the warranty on your equipment?
A: we offer A one-year free warranty and A lifetime after-sales service.