twin screw extrusion extruder PET bottles recycling granulaiton machine. The machine with High-torque twin-screw extruding screw unit, this is a new-generation high-speed, high-torque and high-power twin screw extruder realizing technological promotion based on the existing product by drawing experience from the advanced manufacturing technology in China.

The advantages of this machine
1. Highly efficent: the machine is automatic and with less power consumption.
2. Special screw design: We will design the screw up to customer different material and the material of screw and barrel can be 38CrMoAL or bimetallic.
3. This machine can carry out ideal viscosity of PET without complicated precystallization dryer system. Only a bit IV will be reduced. It can improve IV in the condition of adding some suitable additive.
5. The machine wih long life.

other type of these kinds of machine
| | | | | | | | |
| --- | --- | --- | --- | --- | --- | --- | --- |
| Model | TSSK20 | TSSK30 | TSSK35 | TSSK50 | TSSK65 | TSSK72 | TSSK92 |
| Screw diameter(mm) | 21.7 | 30 | 35.6 | 50.5 | 62.4 | 71.2 | 91 |
| Rotary speed(rpm) | 600 | 400 | 400/600 | 500/600 | 400/500 | 400/500 | 400/500 |
| Main motor power(kw) | 4 | 11 | 11/15 | 37/45 | 55/75 | 90/110 | 220/250 |
| L/D | 32-40 | 28-48 | 32-48 | 32-48 | 32-48 | 32-48 | 32-40 |
| Capacity(kg/h) | 2-10 | 5-30 | 10-80 | 20-150 | 100-300 | 300-600 | 600-1000 |
Layout of the machine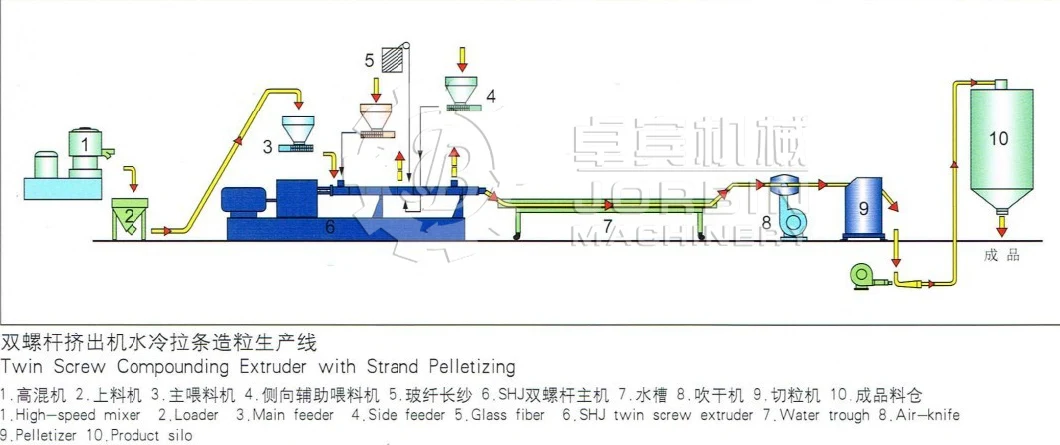 More details machine photoes
Crystallization dryer: dryer the PET flakes in advance
Vulume: 1000L.
Heater power: 36kW
Heat way: by electric
Blower power : 4kW
Mixer power: 2.2kW
Mixer shaft: SS304
Material: Inside stainless steel, outside A3, With warm insulation layer.
With the open door on the hopper, it will be easily operate.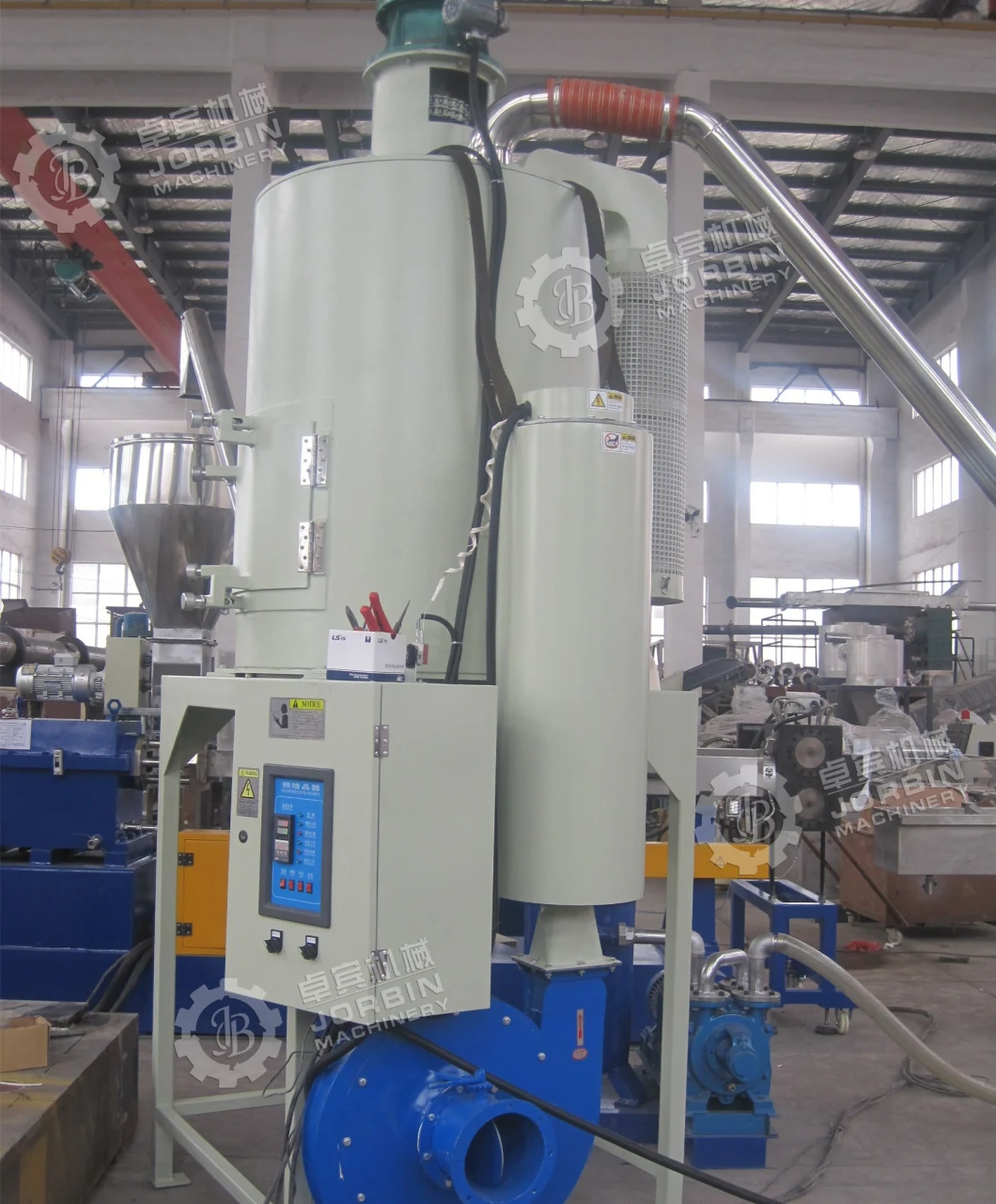 Single screw feeder For feeding the flakes into the extruder:
Feed the PET flakes into the extruder, single screw feeder, feeding the material equally and stably.
Horizontal screw parameter:
Screw diameter:φ60
Power:1.5kw
Material of hopper: SS304
There is sight glass on the hopper, worker can be see the material in the hopper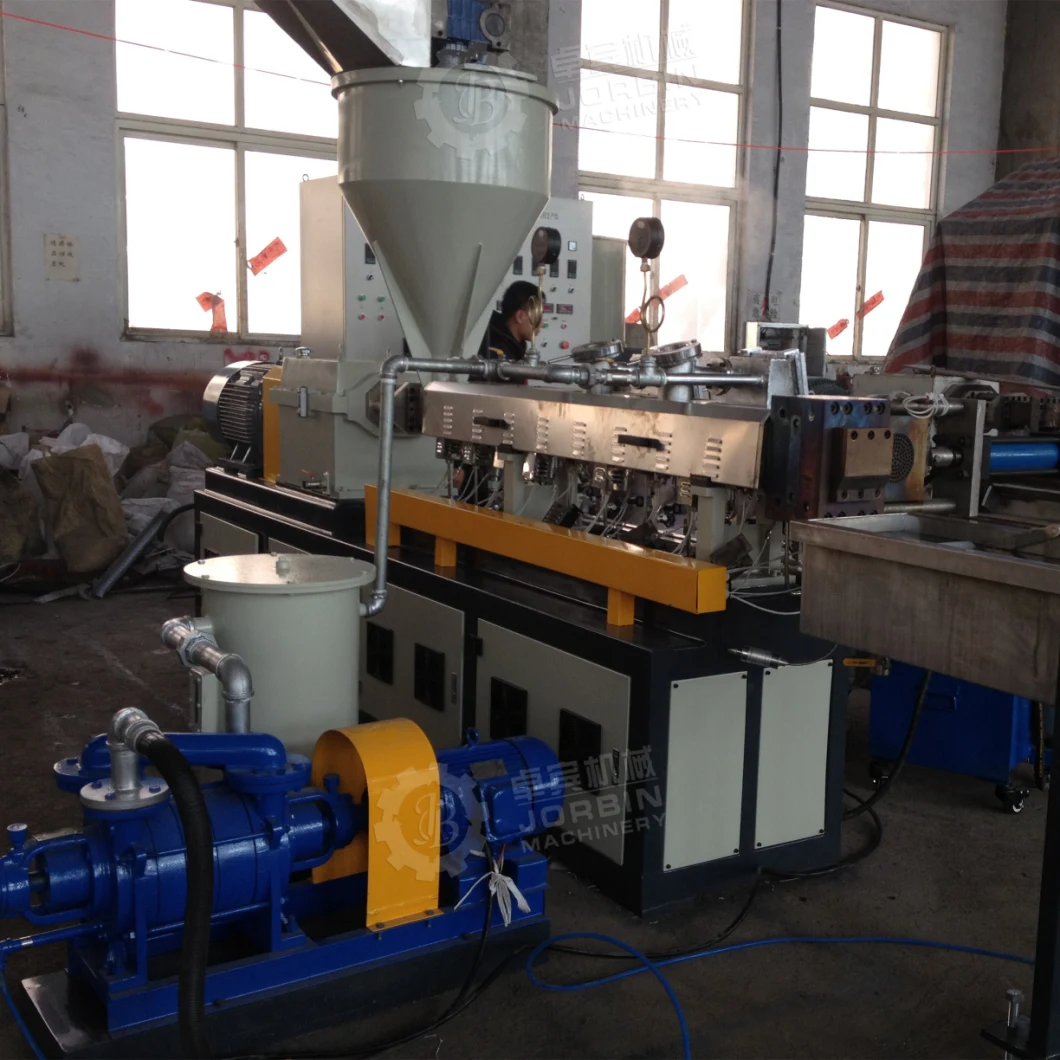 Twin screw extruder machine
Barrel number: 10
Length of barrel #1-10 is 234mm
Total length of barrels: ~2340mm
Barrel #1-9 made of 38CrMoAl material, Hardened to ≥61HRC
The barrel section are cooled with water, each barrel adopts single throttle and solenoid valve, and solenoid valve imported from Italy.
Barrel#1 open for feeder, Barrel#4: open barrel, for natural degassing, Barrel#6, Barrel#68: open barrel, for vacuum degassing. The others is closed.
The processing section is provided with stainless steel cover as a protection against.
Diameter :62.4 mm L/D: 36:1
Centre distance: 52mm
Material of screw: W6Mo5Cr4V2
Rotating speed (counter rotating): 400RPM
A pair of screw shafts, complete with screw elements, screw shafts material is 40CrNiMo, Hardened to ≥61HRC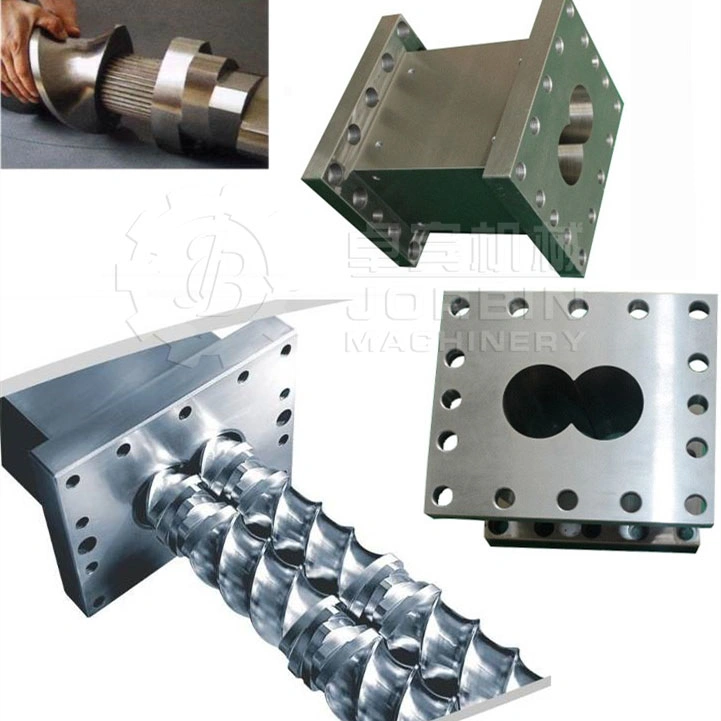 The material come out from the die(pull trap like noodles pelletizing way, PET must use this pelletizing way. And the its need good vacuum, like roots pump, then the pellets will be much better)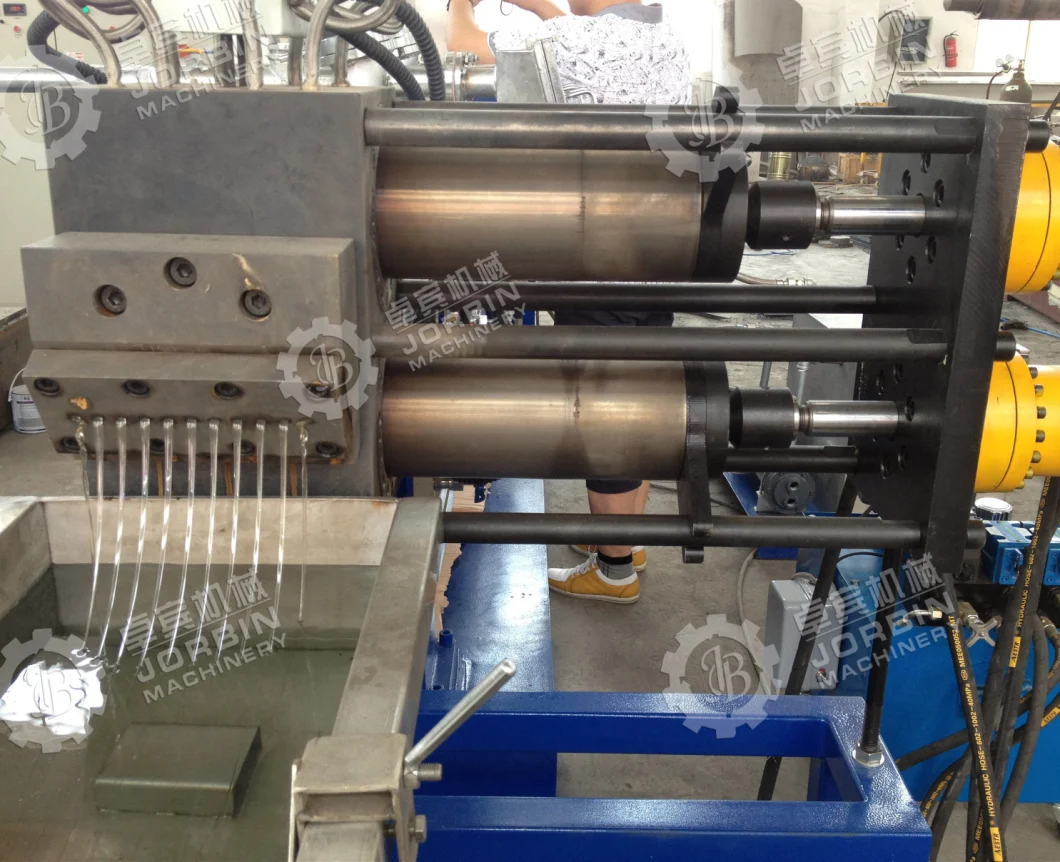 Cooling for the screw( water controlled by electric valves)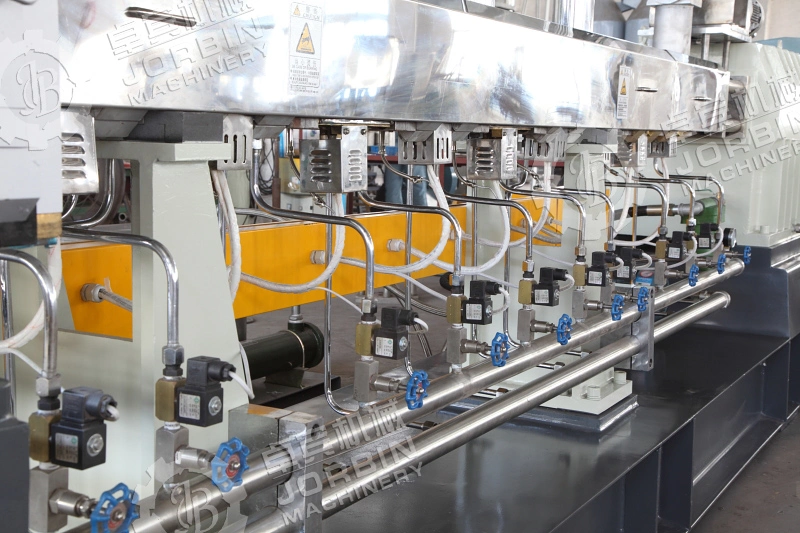 Screw elements of the machine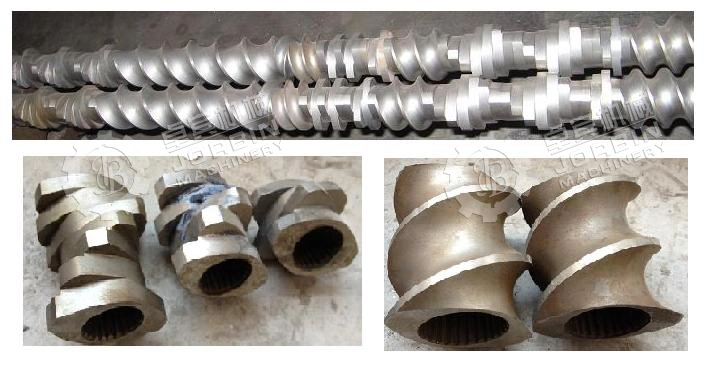 Vacuum, we can use Roots vacuum or Bipolar pump.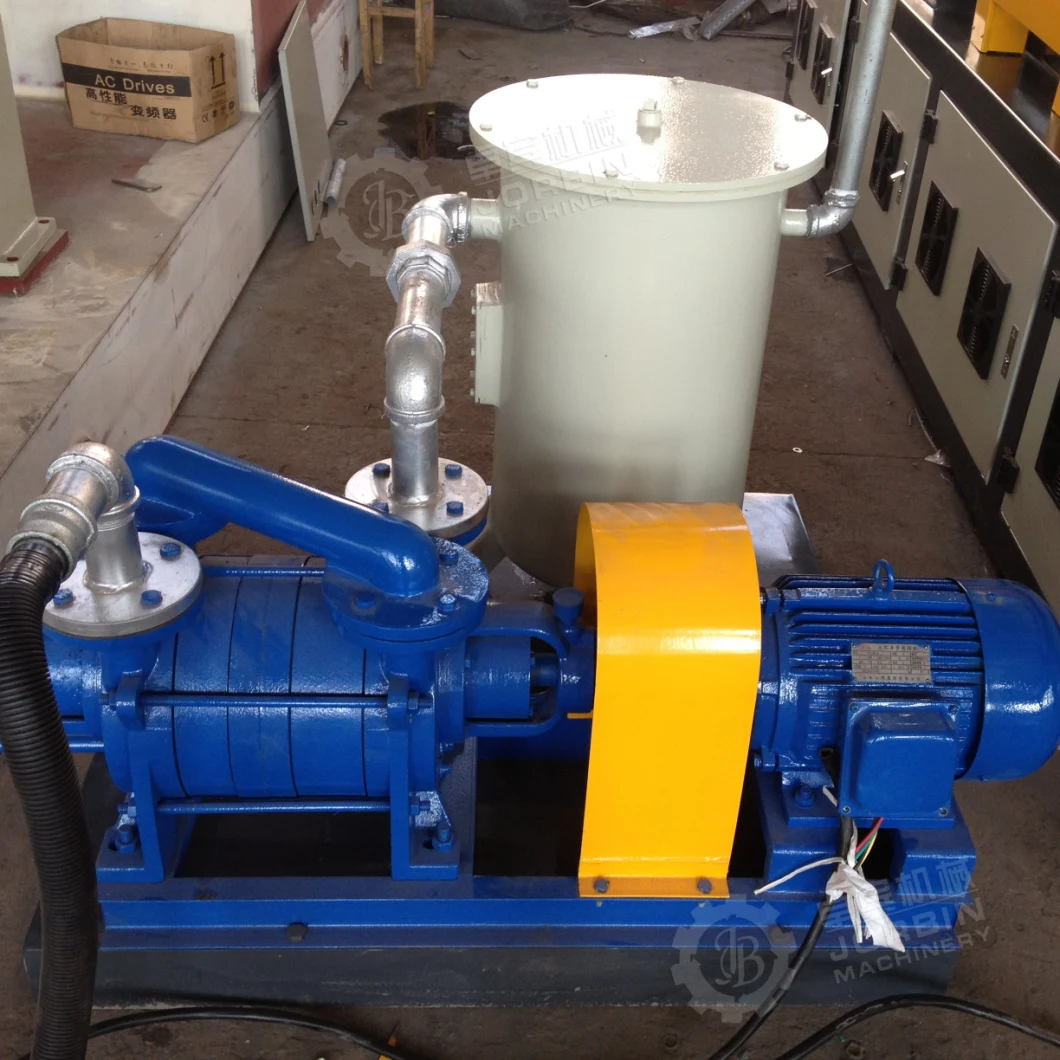 Degassing on the extruder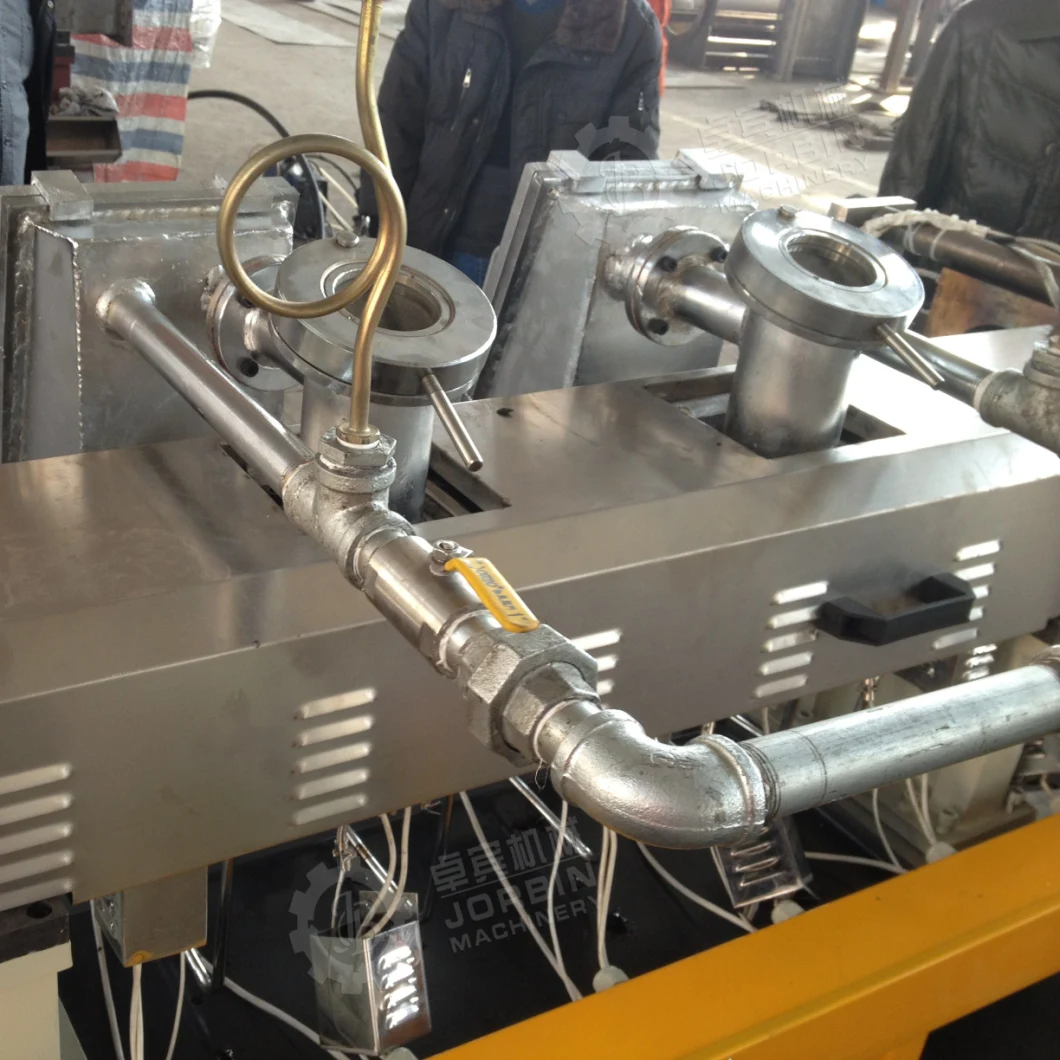 Water tank
Material come from the die and go into the water tank for cooling, There is rubber roller in the tank, material strap can be send into gale dryer to blower the water on its surface.
Length of tank : 4m,
Material of tank is SS304, Material of bracket :Q235
It Can be moved up and down, forward and back up to the die and material needed.
Power of blower on gale dryer:2.2kW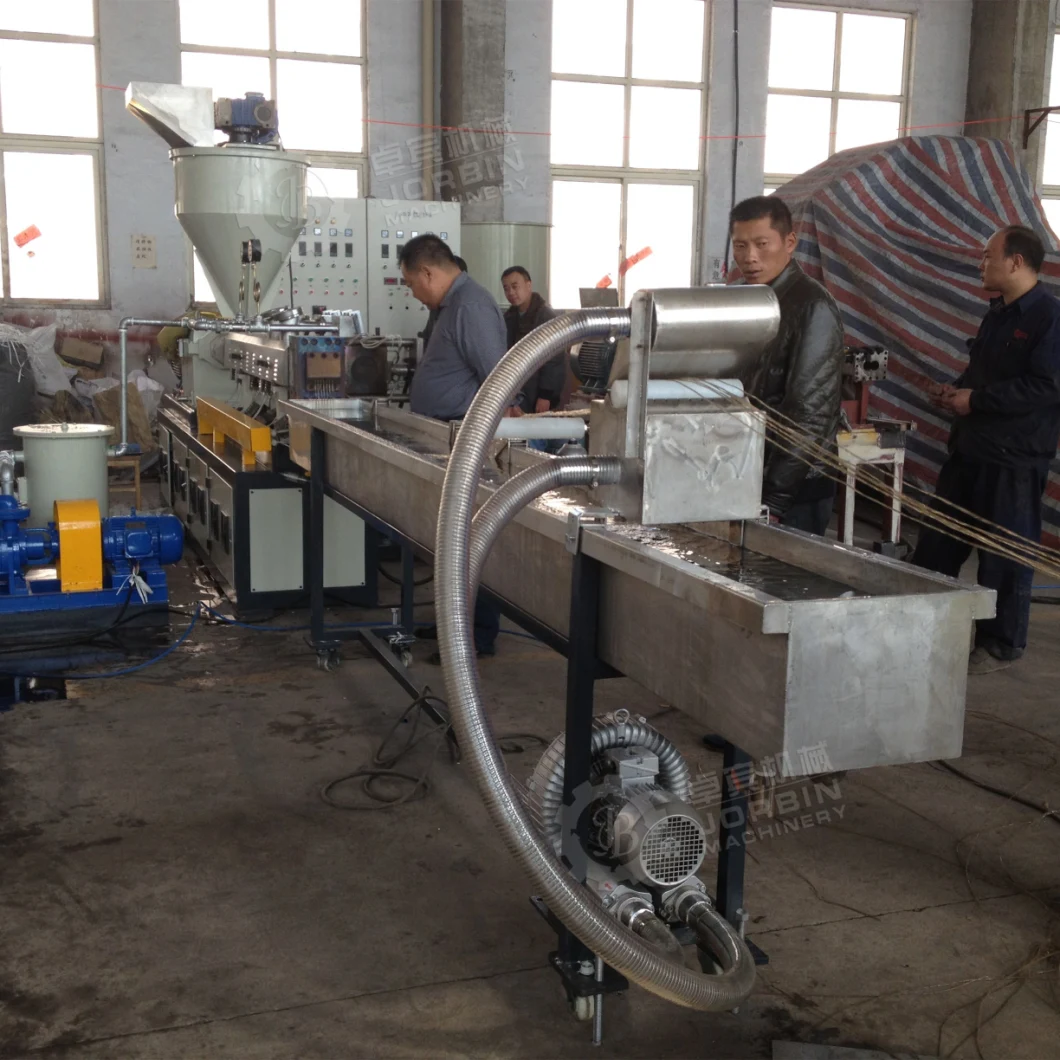 Pelletizer
A. Portal shaped type pelletizer,horniness alloy rotary cutter
B. capacity:300kg/hr
C. motor power:4KW
D. Cutter diameter: 300mm
E. Blade width: 20mm
F. Traction speed :30-90m/min
G. No. of cutter gears: 32
H. Max number of lines: less than 60
Final pellets and Raw material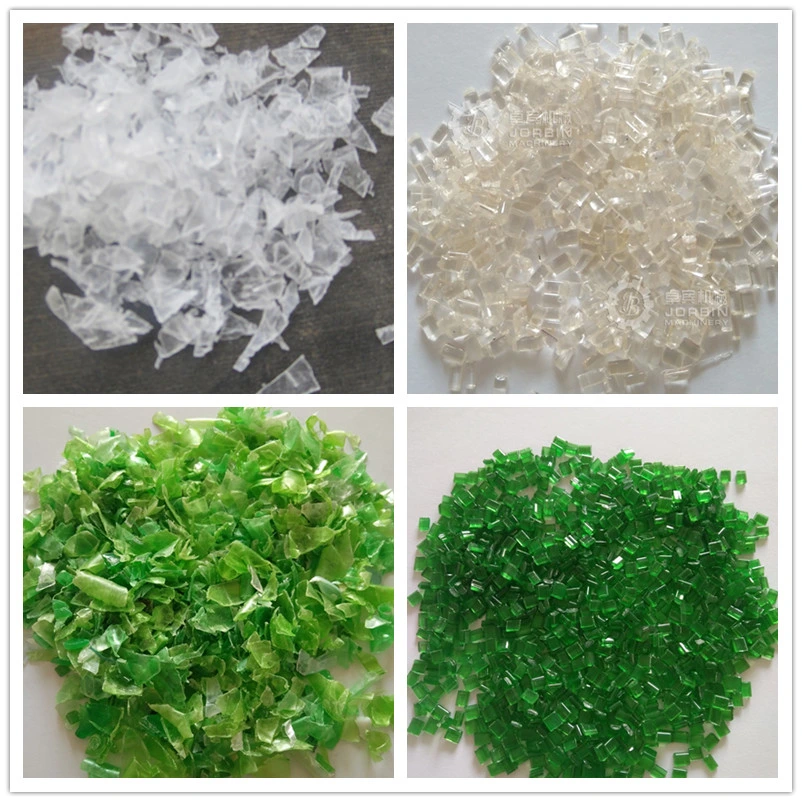 If you need more details of this kind of machine kindly contact me, I can send you more detail photoes and vedios.




1. We supply below necessary documents with the machine:
Machine layout

Electricity diagram

Machine certificate

General manual book/maintenance book
2. We provides one-year quality guarantee. During this period, if the machine's malfunction is approved to be our responsibility, we will send the broken spare parts to you with DHL courier or other way within 7 workdays after receiving the complainant. And send the technicians to the buyer's factory for maintaining. All charges are in our account.

3. After one year guarantee, If you need we can provides payable spare parts and technician's VISITING maintenance, and any broken spares we can send you soon as possible.

4. We trust that our quotation meets with your requirements and we will gladly furnish you with further information.

5. 24Hours service : Cell+86-13915707468