Used tire recycling machines, Rubber powder granules recycling making production line
1 . COMPANY INFORMATION--QINGDAO OULI MACHINE CO., LTD

1-1 OULI COMPANY

Established in 1997 , Qingdao Ouli machine CO., LTD was located in Huangdao District, the west coast of Qingdao city,Shandong province ,China.

Branches in Suzhou , Dalian etc were created in 2012 and 2015 .

We are specialized in rubber machinery designing,manufacturing and maintenance works

OULI main products:
Rubber mixing equipment / Rubber vulcanizing machine / Automatic and semi-automatic waste tire recycling equipment / Rubber calendaring machine / Rubber extruding equipment / Reclaimed rubber production line

Our machines have been exported to more than 20 countries such as America, Canada, Australia, Southeast Asia, Middle East,Brazil .

We warmly welcome customers visit factory and technology discussion is highly appreciated .

1-2 OULI workshop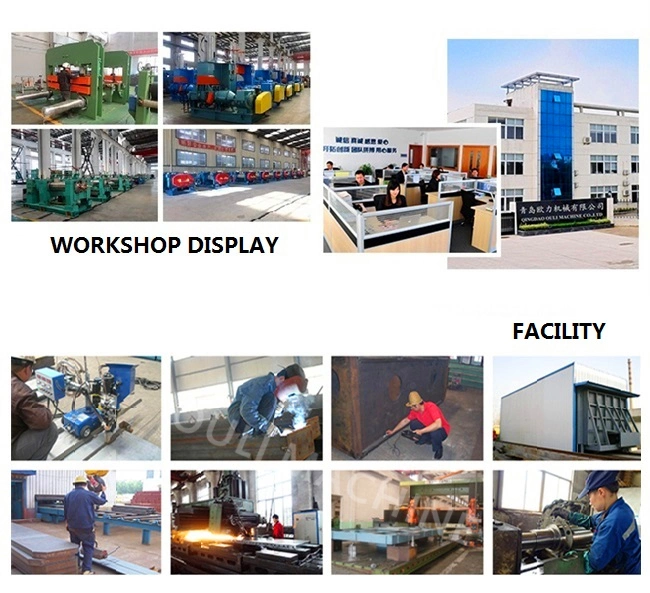 2. PRODUCT INTRODUCTION (Used tire recycling machines, Rubber powder granules recycling making production line )


2-1. Basic introduction Of Used tire recycling machines, Rubber powder granules recycling making production line

1.Single Hook Debeader LSJ-1200

Structural features
The blade of cutter is made of alloy welding and the surface is hard wear-resisting.
On safety factor, this machine have protective frame, which can effectively guarantee safety in the process of pulling out wire loop.
Motor and reducer, and as a whole, the structure is compact.
The machine occupies the whole floor, convenient installation.

Use: Pulling out the wire loops from the mouth of waste tires.

2. Tire Cutter QDJ-1200

The basic principle is: motor drives hydraulic system and the cylinder, place the tire to lock arm, fasten two blades rotating between tire and shear cylinders work to move, two blades rotating blades forming shear, achieve the effect of shear.

Feature:

This equipment, good shear effect, shearing speed, low energy consumption, small volume, convenient, because use the hydraulic system, easy operation and safe.
Mechanical description: the tires more than 800 need to cut, and cut into four pieces in general .the size of piece is 200-500mm.


3. Whole tire shredder ZPS-900

Use:

This machine can directly crush tires smaller than 800mm tires. At the general temperature, can be put directly crushed into 50 * 50 mm block, so the next rotating can grind into 10-30 meshes or wire and fiber separation equipment.

Feature:

This machine is a compact structure, advanced technology, low energy consumption, high efficiency, smashing off the test room for the structure, maintenance is particularly convenient; tools with carbide surfacing technology, high hardness, high wear resistance, and repeated repair using, so has a longer service life; rotary screen for the lattice structure of steel mesh, blanking large area, enabling the screening of qualified rubber. After the partition of large tires can achieve the effect of the same!
Mechanical description: the tires of 800mm diameter and rubber ring can directly be broken into 50*50 mm of rubber block.


4. Double Rolls Rubber Crusher XKP-560
Use:Mainly used for crack large rubber blocks into 40-50mm small rubber blocks.

Technical parameters:

Structure: The rollers adopt alloy cold hard cast irons with wear-resisting, durable characters. The mill flour is with teeth, high groove.

In order to extend the service life of the cracker, we suggest build foundations for rubber cracker.
The configurations of our XKP-560 rubber cracker are nylon bush grease lubrication and hard gear surface reducer with lower noise and longer service life.

Our crackers are designed humanized with nice operating platforms, all the wires will be connected well from controlling system to motor. When using the machine, the customers just need to connect directly to the power.
FOR MORE INFORMATION : oulimachine.en.made-in-china.com
2-3. Parameter
Of Used tire recycling machines, Rubber powder granules recycling making production line
Tire Cutting machine

Parameter/model

TC-300

Capacity (tires/h)

40-60

Adapt tire size (mm)

≤ 1200

Powder (kw)

5.5

Size (mm)

2010×1090×1700

Weight (T)

1.2
Tire shredder

Parameter/model

ZPS-900

ZPS-1200

Adopt tire (mm)

≤ 900

≤ 1200

Output block size (mm)

50×50

50×50

Power (kw)

22×2

55×2

Capacity (kg/h)

1500-2000

3000

Size (mm)

3800×2030×3300

4100×2730×3300

Weight (kg)

6000

16000
Rubber crusher machine

Parameter/model

XKP-400

XKP-450

XKP-560

Front Roll diameter(mm)

400

450

560

Back Roll diameter (mm)

400

450

510

Roll working length(mm)

600

800

800

Roll ratio

1:1.237

1:1.38

1:1.3

Front roll speed (m/min)

17.32

23.2

25.6

Adjusting nip range(mm)

0-10

0-10

0-15

Motor power (kw)

37

55

110

Overall dimensions (mm)

3950×1800×1780

4770×1846×1835

4750×2300×2000

Weight (t)

8

12

20
2-4. Sample pictures of Used tire recycling machines, Rubber powder granules recycling making production line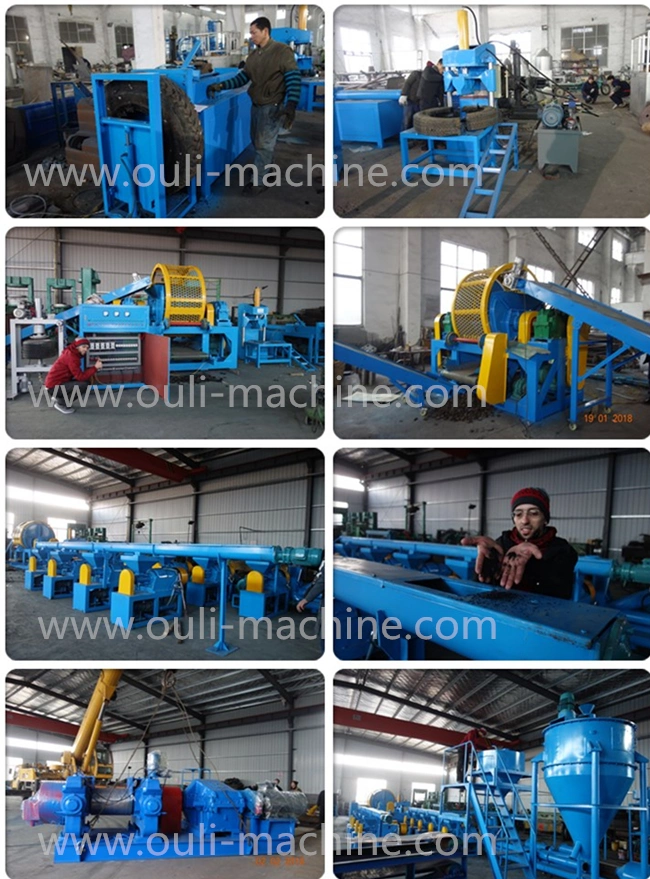 3. CUSTOMER FEEDBACK
of
Used tire recycling machines, Rubber powder granules recycling making production line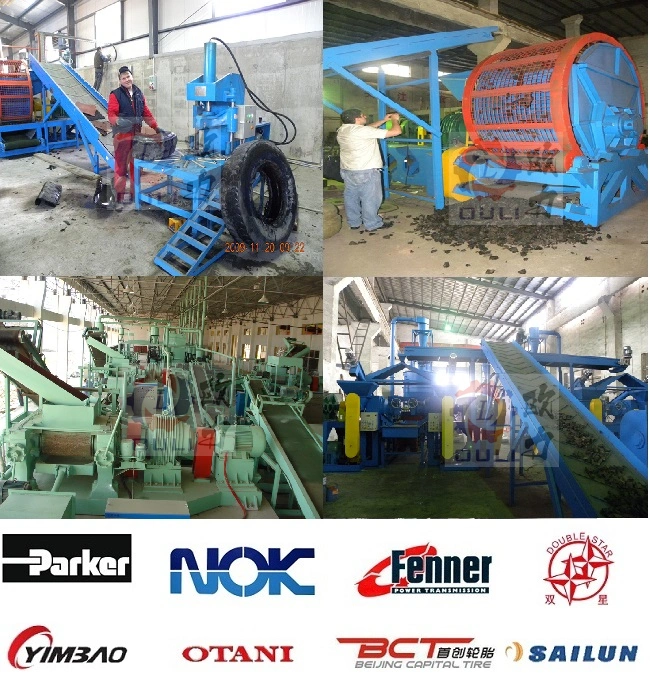 4. EXHIBITION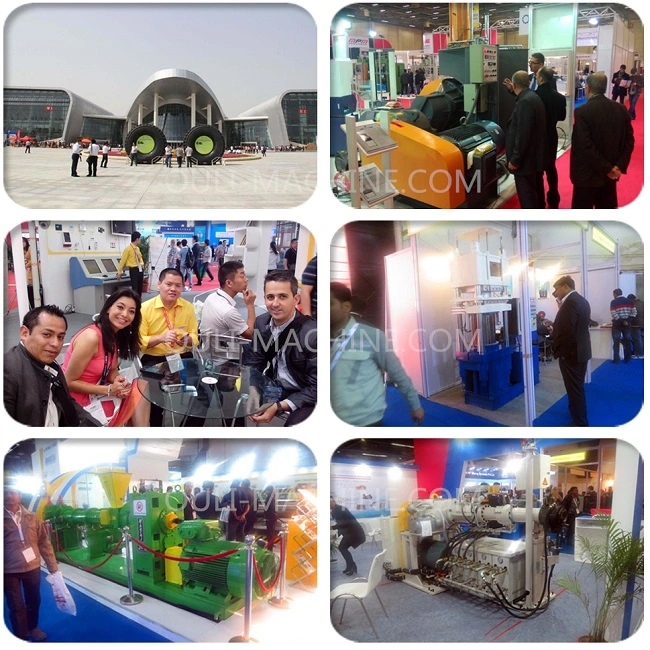 Used tire recycling machines, Rubber powder granules recycling making production line
6. FAQ
Q1:Why choose Us?
1.More than 20 years history of OULI MACHINE factory.
6-8 years foreign sales experience staff, more efficiency and professional.
Engineers oversea service more than 20 countries .
2.ISO:9001,CE,BV certification approval
3.Service timely, Promise to give solution within 12 hours,Guarantee customer trouble free.
4.Short delivery date, No delay. Accept urgent order for prompt shipment.
Q2:What about delivery date?
It will be according to the quantity of machines. Normally machines will be shipment within 20-30 days after get deposit, No delay.
Accept urgent order for prompt shipment.
Q3:What's the warranty statement?
OULI MACHINE warrants all the products manufactured by OULI MACHINE to free from defects in material and workmanship Under normal use of a period of 12 months or 36months after the date of the original purchase price if repair or replacement is not possible of practical, OULI MACHINE warranty covers ONLY the product itself.
OULI MACHINE will assume no liability for labor costs, installation costs, or other losses.
Your warranty rights will be honored
Only when the product has been installed and used properly as deemed by OULI MACHINE,OULIMACHINE will not repair products damaged by improper use or faulty installation.
Q4:What about OULI oversea service ?
OULI will arrange oversea setting up and training works if customer need .
Customer should pay for accommodation , tickets and salary .
Meanwhile OULI has branches in different areas like north America , Southeast Asia , Brazil etc , etc .
Used tire recycling machines, Rubber powder granules recycling making production line