PP HDPE LDPE hard plastic material Single /Double Stage water-ring/ water-strand Pelletizing/Pelletizer/extruder/granulator Granule/pellet Making Machine Line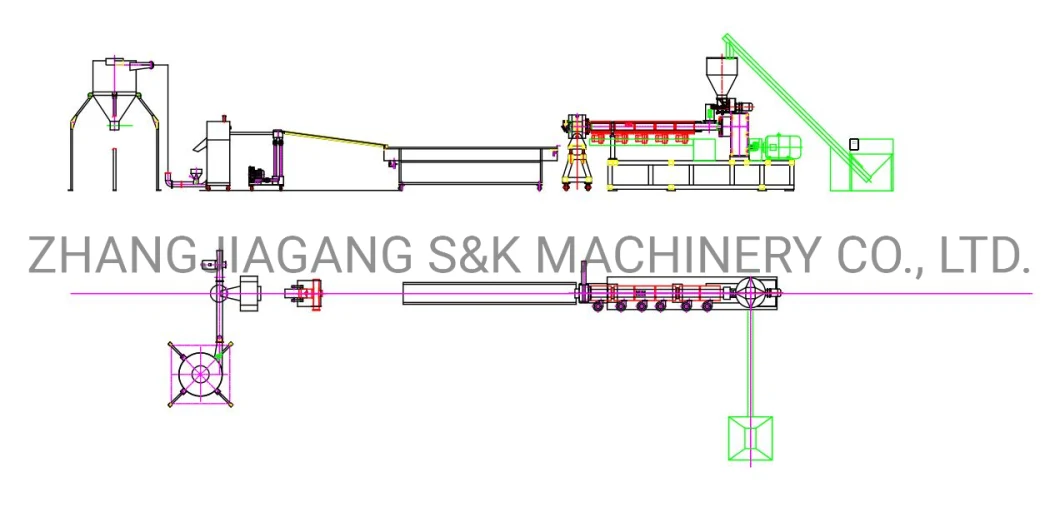 Screw Loader→Single feeding screw→SJ 90/33 Single Screw Extruder→Hydraulic Screen Changer→Vacuum System→Cooling tank→Strong wind blowing machine→Cutting machine→Air Conveyer→Silo

Product description :
1,This pet bottle/film crushing and washing machine/pet bottle recycling line can easily wash and recycle waste PET bottle flakes ,which includes PE/PP labels, PVC labels, paper labels, HDPE cups, glue, mud, beverage leftover, oil, and scrap iron..
2, pet bottle /film crushing and washing machine/pet bottle recycling line at the end of the washing line so that the completely dry flakes can be collected and packed directly after being washed.
3, the whole pet bottle /film crushing and washing machine/pet bottle recycling line can be designed on the basis of how dirty the flakes are, and make sure of the quality of the final products..
4, Coordinating the production line with follow programmed work (granulating system), and it will make waste and dirty PET bottles /films to be the PET granule material and in order to producing new PET bottles. The material from this equipment can be put into the granulating machine directly.
5, we can supply pet bottle /films crushing and washing machine/pet bottle recycling line with capacity from 100kg/h to 2500kg/h..'
And you are welcomed to my factory to see the pet bottle /films crushing and washing machine/pet bottle recycling line .We design and produce all the pet bottle/films crushing and washing machine pet bottle/films recycling line by ourself.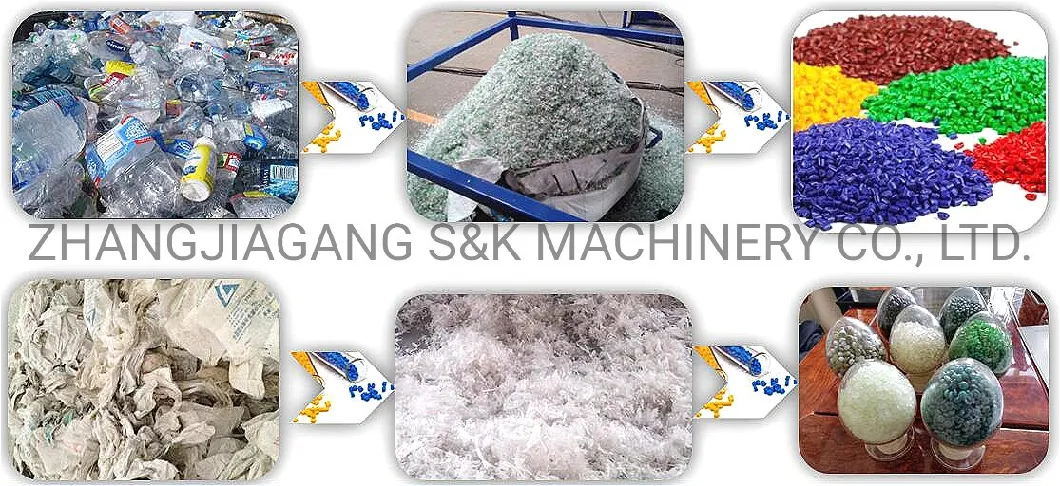 Main Technical Parameter :
| | | | | | | |
| --- | --- | --- | --- | --- | --- | --- |
| 1 | Model | SKML-85 | SKML-100 | SKML-130 | SKML-160 | SKML-180 |
| 2 | Screw Diameter(mm) | 85 | 100 | 130 | 160 | 180 |
| 3 | Compactor power(kw) | 37 | 55 | 75 | 90 | 110 |
| 4 | First extruder power(KW) | 55 | 90 | 132 | 180 | 250 |
| 5 | Second extruder power(kw) | 18.5 | 30 | 45 | 55 | 90 |
| 6 | Output(kg/h) | 180-250 | 280-350 | 450-500 | 650-700 | 900-1000 |
Machine Parts: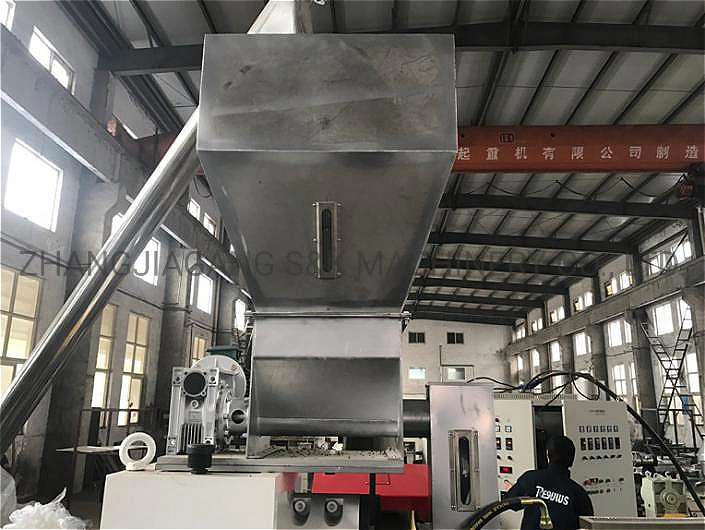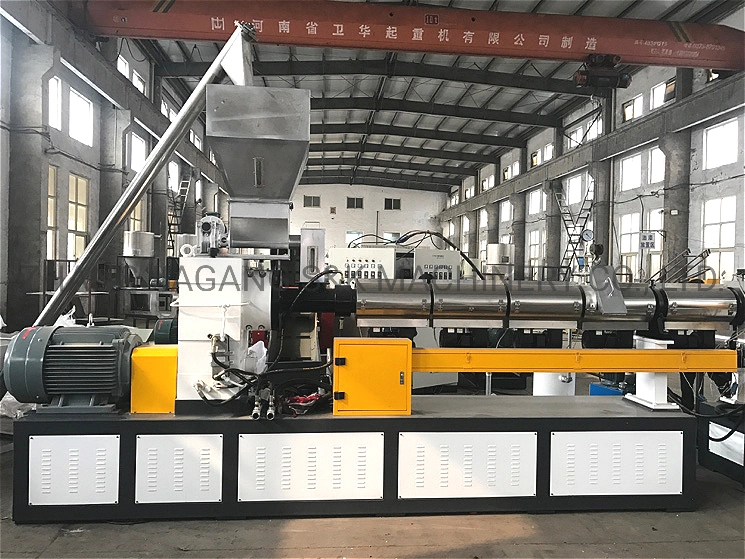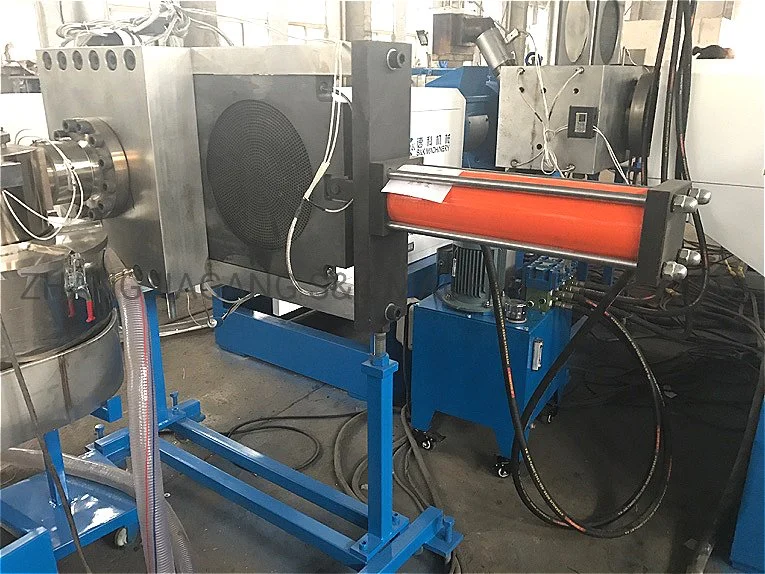 Single feeding screw : Single screw extruder Hydraulic Screen changer :
1.
Push the material into the 90mm screw
1.
Screw and Barrel Material: 38CrMoA1A 1.Changing screen time≤2 sec.
2.
Feeding motor power:1.5KW
2.
Rotate Speed: 10-150 rpm
2.Motor power:2.2KW
3.
Speed control: By inverter
3.Heating Method: Electric heater
3.Diameter of the plate:300mm
4.
Cooling Method: Force air cooling 4.Heating power:16KW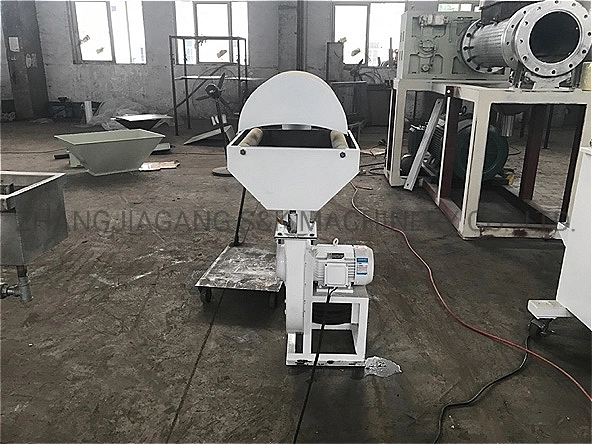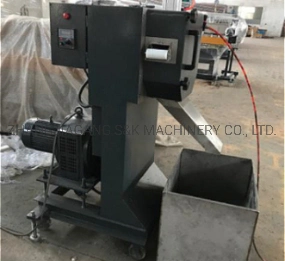 Cooling tank:
Strong wind blowing machine: Cutter:
1.Length:4000mm
1.Power:blower 3KW 1.Horniness alloy rotary cutter
2.Material: SUS304 2.Material:stainless steel 2.
Cutter diameter:200mm
3.Thick:2.0mm,
3.Adopt one suction one blower
3.Blade width:300mm
4.Bracket: Q235 4.
Traction speed :30-90m/min
Factory overview: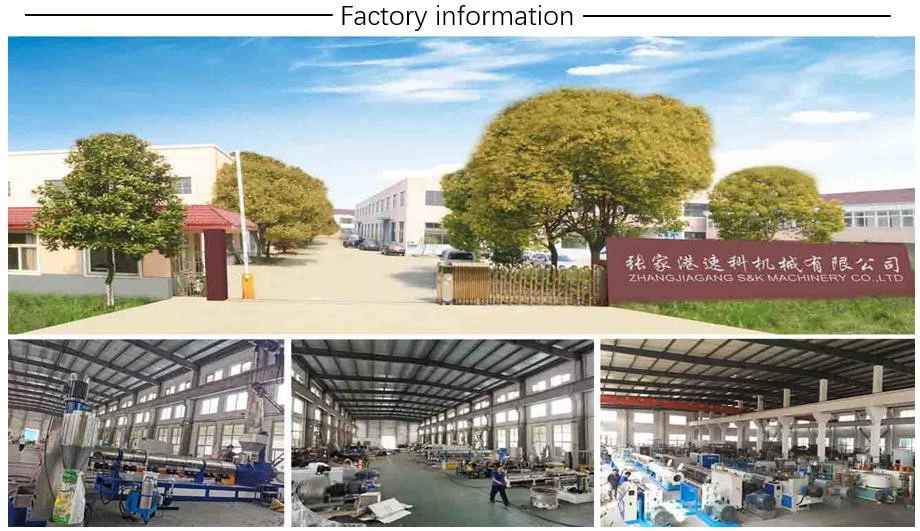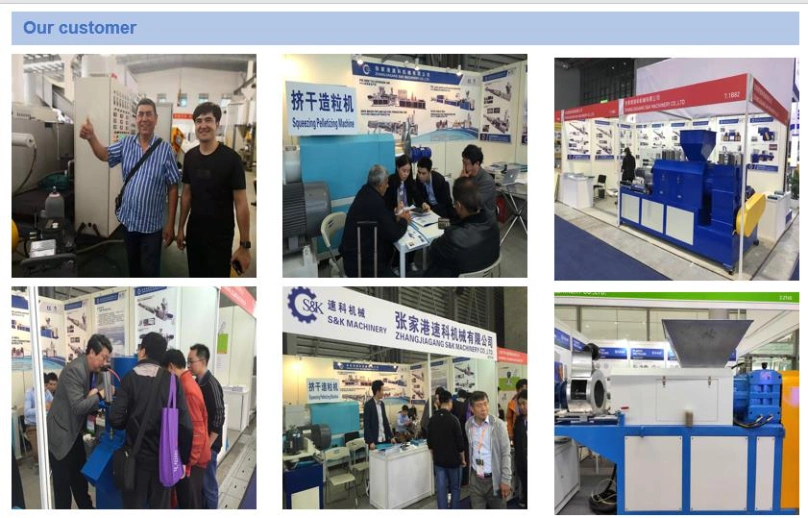 Our service:
Pre-sale :
We provide presales service in various forms, for example, making investment budget,manufacturing planning, etc. so that customers make a reasonable plan with less cost.
• Investment budgeting: We provide services of product profit analysis, recommendation of machine and auxiliary equipment and relevant budgeting, human resources allocation and budgeting.
• Plant Planning: We provide the mounting dimension of the equipment base,design of equipment layout, workshop ventilation, water transmission etc.
• Offer information of peripherals
In-sale :
• Detailed design of lay-out that is the position of the procession
• Technological information of provided products
• Schedule about design,manufacturing and installation
• Working & Producing progression
• Training course for the technician so that the installation is safe and standard
After-sale :
• For customers buying our products, we provide them free training so that they can use and maintain the machine independently.
• We will answer customer's question on technology in time. If needed, we will offer on-site guidance and assistance.
• We can provide free technical guidance if customers need new equipment, add or rebuild equipment.
Competitive Advantage:
1. Installation and test running
We will invite customers to check the machine before shipment. And if the customer requests us to guide installment and test running in his factory, we will send our engineer. And the customer should pay for engineer's ticket, visa, room and board, $80 per day for one people as allowance.
2. Quality guarantee
We normally guarantee machine quality for one year to key components of the machines.
S&K Machinery has been dedicated to producing machinery and equipments and carrying out facility construction,pursuing the best quality and producing the best product at the same time. We are committed to reward you with a better quality in return for our interest in and faith toward. We will do our utmost for one more stepping forward,based on our infinite services and trust to customers.

Contact us :