Co Rotating Twin Screw Extruder Machine Parts 10mm - 120 Mm Screw Shaft
Product Description:
Sichuan Advance technology Co.,Ltd is dedicate to develop, design, and manufacture co-rotation, counter- rotation parallel twin screw extruder production line. we integrate and upgrade these experiences to create our transmission concept and form our core technology" bilateral gear symmetrical driving system". The technology enables our extruders have the advantages of "High torque, high efficiency, low energy-consumption, high price/performance ratio,long service life." We keep pace with the first class extruder manufactures in the world.
And we also manufacture screw segments for twin screw extruder for Leistritz, APV, Kobe, OMC, Buhler, Kraussmaffei, Theysohn, Buss, Berstorff, Toshiba, Clextral, Labtech, USEON, Coperion, Lantai, JSW, Keya, Maris and so on.
Types of shaft :
Single keyway
Square keyslot
High torque key button
Dual keyslot
Involute inner spline
Round keyslot
Retackle spine
Client's requirements available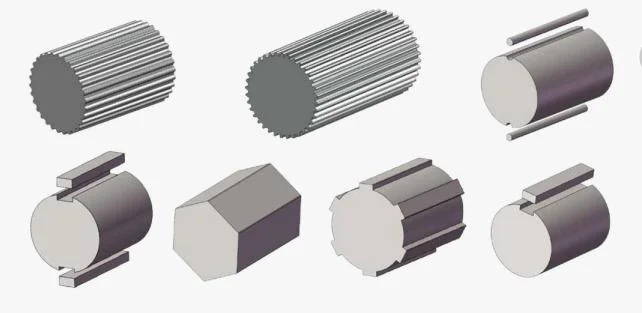 Involute spline shaft :



Structure :
with cooling system/without cooling water
Size:
diameter 10-120mm/length 500-9000mm
Material:
(1)40CrNiMo with special treatment and involute form can be used under the circumstance of high torque,high torsion and high load.
(2)And nitrogen bearing Matensite stainless steel, WR15E and WR30 can also be applied to make good toughness and machine performance available. The performance parameters similar to the imported shaft but with more cost efficient, the machining process is under accurate controlling to make sure the accuracy of groove depth and distance, the smoothness of the surface, toughness and durability as well.
Material Application :
Ralloy WR15E is a chromium-molybdenum-vanadium-alloyed steel which is characterized by:
- Excellent tensile strength combined with good toughness
- High thermal stability, high resistant to thermal shocks
- Good high-temperature strength
- Good machinability and polishability
- Excellent through-hardening properties
- Good dimensional stability during hardening
Rally WR30 is a high pressure nitriding iron-based Cr-Mo alloy which is characterized by :
- Superior corrosion resistance
- Excellent machinability
- High dimensional stability after heat treatment
- Excellent grinding and polishing ability to obtain optional surface quality
- High durability by maximum hardness under static and dynamic demands
- Good wear resistance
- High temper resistance up to 500ºC
40CrNiMoa is a kind of Alloy constructional steel.